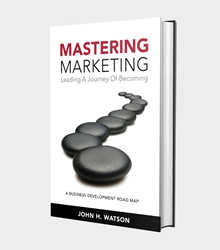 Helping business owners wrap their heads around marketing as a system to drive earnings growth
CALGARY, Alberta (PRWEB) January 27, 2020
Mastering Marketing demystifies marketing for small business owners. It invites them to step up and lead a process of becoming customer-centric and focused on earnings growth.
The book offers a unique perspective on business development. The author frames marketing from a coaching perspective; as something to take on and become. It helps business owners wrap their heads around marketing as a system to build and a set of behaviours to adopt.
Author John Watson shares, "Too many business owners abdicate marketing leadership to suppliers because they don't understand it. Their suppliers' take on projects without clear objectives or agreement on their role. They don't realise the business owner is expecting results. They're focused on completing projects. What follows amounts to well-intentioned busywork, that can waste money, produce little value and leave hard feelings."
The book shifts the conversation away from a focus on tactics and technologies. Instead, the main question posed is, "who do we need to be, to reach, engage, enroll, retain, and develop long-term client relationships?"
Presented are leadership conversations on twenty Ways of Being; their necessity, function, and practice. The twenty conversations help the business owner align their company with client needs, create a system for business development and focus on target outcomes.
You can read the book all at once to get context for marketing as a system. Or, you can read a chapter at a time to get focused on something specific and constructive.
Author John Watson is the founder of Accrue Performance Marketing. He serves as a fractional Chief Marketing Officer to business owners, who can't justify a full-time marketing executive. For over 25 years, John's helped start and grow a wide variety of small businesses.
This is John Watson's first book. Before this, he's written 18 free eBooks on a range of marketing leadership topics. He's also written numerous articles and a small business coaching program called Being Profitable.
Mastering Marketing is available on the author's website at AccrueMarketing.com in hardcover, paperback, EPUB and MOBI eBook formats. The book will be available on Amazon and all major online bookstores in March 2020.