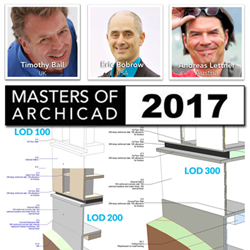 We're going to show how to efficiently and effectively use ARCHICAD on real projects in a way that makes your firm money.
San Rafael, CA (PRWEB) June 29, 2017
MASTERS of ARCHICAD 2017 is the latest edition of the groundbreaking program that unites ARCHICAD experts from around the world in sharing cutting-edge knowledge and experience with users from dozens of countries. The adventure launches July 12, 2017, running for 16 live webinar sessions through February 2018, with a full day web-based Summit conference in March 2018.
Directed by internationally recognized educator Eric Bobrow, the new training will teach the latest ARCHICAD Best Practices methods for project organization, development and collaboration.
Austrian architect Andreas Lettner will team with UK architect Timothy Ball to teach the online training webinars; both are highly respected veteran users and teachers of the software. The complex 60 room hotel design on an Austrian hillside (adapted from one of Lettner's real-world projects) will be developed and constructed from concept through working drawings. In addition to developing an integrated 3D model, 2D construction documents, and presentation renderings, BIM data will be carried throughout the process for cost and quantity analysis, specifications reporting and IFC-based consultant collaboration.
Additional ARCHICAD experts from several continents will join the team to present specialty training segments covering complex modeling, best practices for large projects, and interior fit-out for branding and high-end visualization.
The collaboration of the three directors will combine decades of experience in using ARCHICAD on projects of all sizes. In addition to the actual hotel project that was adapted for the training, Lettner's work ranges from small custom residences on up to large public works including a railway station in St. Anton Austria. Ball is well known for pushing the limits of ARCHICAD's technology while maintaining a profitable small practice. He comments: "We're going to show how to efficiently and effectively use ARCHICAD on real projects in a way that makes your firm money."
Bobrow's extensive experience creating online training courses and add-on products for ARCHICAD enables him to direct the overall project in a way that will reach hundreds of users and communicate clearly the latest Best Practices methods for ARCHICAD 21.
For more information and to enroll in the MASTERS of ARCHICAD 2017 program, please visit http://www.mastersofarchicad.com.
ABOUT MASTERS of ARCHICAD and the PROGRAM DIRECTORS
Eric Bobrow launched the Masters of ARCHICAD project in 2015​ with an online two day Summit conference featuring 12 internationally recognized experts and over 300 attendees. Since then he has produced 7 specialty courses as well as reprising the Summit in 2016 with 12 additional presentations. Bobrow is the leading independent educator in the ARCHICAD community; his ARCHICAD Tutorials YouTube channel has over 18,000 subscribers and 2.9 million views. After 20 years as a successful authorized reseller for ARCHICAD (including being named U.S. Reseller of the Year), Bobrow now focuses on teaching ARCHICAD online.
Architect Andreas Lettner is a partner at Manzl Sandner Ritsch Architekten (Innsbruck Austria). In addition to being in-demand on projects of all sizes for a wide variety of European clients, he has been a lecturer for ArchiCAD since 1996 and is known as a specialist for BIM authoring and implementation. Among many other credits, Lettner is organizer for the ArchiCAD User Association Winter School conferences, taught the popular MASTERS of ARCHICAD course on Cinerender, and presented at both the 2015 and 2016 MASTERS of ARCHICAD Summit conferences.​
Architect Timothy Ball, RIBA, is principal of JHD Architects in Tunbridge Wells in the south east of England. He is known for pushing the limits of ARCHICAD with 3D modeling that virtually eliminates 2D drafting and automatically produces 3D detailing and specification data. Ball taught the popular MASTERS of ARCHICAD course "Working Drawings Without Details​," and presented at both 2015 and 2016 Summit conferences. In addition to teaching regularly at ArchiCAD User Association conferences, Ball has also been a member of the ArchiCAD Key Client group for Graphisoft UK, advising them and sharing insights from his practice.