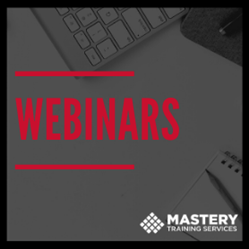 NOVI, Mich. (PRWEB) July 01, 2020
Mastery is hosting two free webinars this July to help people develop new leadership skills. These sessions are designed to help anyone in a leadership role build new skills, such as conducting impactful one-on-one meetings and how to embrace authenticity in the workplace.
With all the uncertainty in the world, many organizations are realizing the strength of their leaders is critical for navigating the organization through change. Mastery Training Services hopes these webinar sessions help leaders develop the skills needed to guide their teams through change.
On Tuesday, July 14 at 2 p.m. EST, Amy Forehand, leadership consultant of The Forehand Company, will present "Leadership: The Hidden Power of One on Ones." In this session Amy teaches leaders how to extract the untapped potential of one-on-one meetings to grow their team's performance by focusing on each employee's uniqueness, while boosting leadership skills.
Then, on Thursday, July 30 at 2 p.m. EST, Erika Monae, HR consultant and leadership coach, will present on how to "Level Up to Authentic Leadership." Erika will break down her Leadership Iceberg Model, which consists of three levels for participants to build their leadership style and capabilities so they can be the positive change the future workforce needs. Erika focuses on the connection between self-awareness and leadership, how leaders can be their authentic selves at work and give their team permission to be authentic as well, which will result in an increase in performance.
To register for these session or for a full list of free webinars offered by Mastery Training Services, click here.
About Amy Forehand
Amy Forehand, founder of The Forehand Company, is a leadership consultant and coach committed to growing employeeship - employee responsibility, loyalty and initiative. Amy does this by creating stronger partnerships between employees and their leaders. She is guided by a belief that employees thrive when the right conditions are created and works with leaders to ensure those conditions are created on purpose. Amy also serves as a trustee on the Chelsea Education Foundation board.
About Erika Monaé
Erika Monaé, a Detroit native, is a HR practitioner with 10+ years of HR & OD experience & is the Founder & CEO of The Erika Monaé Group- a professional coaching & consulting practice. Erika has a bachelor's degree in Accounting & a master's degree in Human Resources & Organizational Development. She is a SHRM & HRCI certified HR professional. Erika is a "People Builder," as she builds off people's strengths to fuel them so they can be authentic& allow others to see their light SHINE!
About Mastery Training Services
Mastery Training Services is a leader in the corporate online training marketplace. We help organizations grow and become more successful with our comprehensive workplace training systems and services. In this way, Mastery fulfills its mission of helping build more successful, effective and amazing organizations.