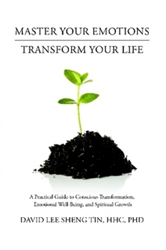 MIAMI (PRWEB) August 29, 2017
The new self-help book, "Master Your Emotions—Transform Your Life: A Practical Guide to Conscious Transformation, Emotional Well-Being, and Spiritual Growth" (published by Lulu), by David Lee Sheng Tin, HHC, PhD, is a practical guide to assist anyone to who would like to live a happier, healthier more positive life.
"Stress, disappointment, setbacks and the daily challenges of life affect our emotions, creating unhappiness and sometimes ill health. Knowing how to consciously create positive emotions could be life saving," Lee Sheng Tin says.
Lee Sheng Tin posits that emotional well-being is essential for living a healthy, happy, harmonious life and for spiritual growth. He says that his theoretical, practical guide teaches how to identify self-limiting emotions and tap into the power within to consciously transform thinking and make positive changes in life. The book offers exercises to improve emotions and techniques readers can use to access deeper levels of their minds.
"Readers will discover that emotions do not just happen but are a result of our beliefs and values. Learning how to understand your beliefs and values and how to change them will have a positive influence on your life. You are in charge of your emotions and can change them."
"Master Your Emotions—Transform Your Life"
By David Lee Sheng Tin, HHC, PhD
Softcover | 6 x 9 in | 82 pages | ISBN 9781387112814
E-Book | 82 pages | ISBN 9781483472959
Available at Amazon and Barnes & Noble
About the Author
David Lee Sheng Tin, HHC, PhD, is a certified holistic health and lifestyle consultant, a certified teacher and lecturer of Transcendental Meditation, and the author of "Awaken to Your Divinity: Creating Your Emotional Fitness: The Missing Link to Spiritual Growth." For more than 25 years, he has been lecturing on the topic of human development, stress management, emotional fitness, and health to individuals, groups, and companies in the Caribbean and the United States. He received his Master of Science and doctorate degrees in the science of creative intelligence, the study of consciousness and human development from Maharishi European Research University, Switzerland. He also studied ayurveda with Maharishi Vedic University in Holland and India. Lee Sheng Tin is a graduate of the Chinese Academy of Chinese Traditional Medicine in Beijing and the Institute of Integrative Nutrition in New York, where he studied health coaching and nutrition. He is also a graduate in strategic intervention, marriage education and divorce prevention from the Tony Robbins-Madanes Center for Strategic Intervention in California.
Lulu empowers people of all ages to explore and express their interests, passions and expertise through books, photography and art. Since introducing self-publishing in 2002, Lulu has empowered creators in more than 225 countries and territories to produce nearly two million publications. Lulu Jr. allows children to become published authors, encouraging creativity, strengthening literacy and building self-esteem. Picture.com offers professional photography of collegiate and professional sports, memorable and historic events, fine art and home décor. For more information, please visit lulu.com.