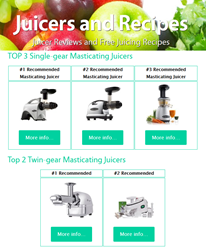 Juice extracted from twin-gear Triturating juicers are the most nutritious. However, a single-gear masticating juicer will be sufficient for most households.
Los Angeles, CA (PRWEB) November 14, 2013
Centrifugal juicers may be the most popular kind; however, they have several major shortcomings compared to masticating juicers. Juice extracted from centrifugal juicers are relatively inferior in volume, overall nutritional value and shelf-life. According to the 10 Benefits of the Masticating Juicer compared to the Centrifugal Juicer, the main reason behind this difference of juice quality is the rotational speed of the motor.
With the masticating type, the rotating speed (revolutions per minute; rpm) of the gear/auger that crushes and presses the fruits typically ranges from 80 – 110 rpm. In contrast, the grating disks/blades of centrifugal machines spin at speeds of up to 15,000 rpm. The higher the speed of rotation, the larger the amount of heat generated. Certain micro-nutrients sensitive to heat (e.g. enzymes) are inactivated by the generated heat. With high speeds of rotation, there is also considerable mixing of air and juice. This is what gives rise to all the frothing/foaming observed on the top of the juice. This is not a good thing because it introduces oxygen to the juice. Nutrients sensitive to oxidation (e.g. anti-oxidants, trace minerals) are inactivated by this oxygen that gets mixed with the juice during high-speed mixing. In contrast, masticating juicers produce little to no heat (that's why they're also known as cold-press juicers) and minimal frothing due to the low rpm. Another easily recognizable difference between the two types is the dryness of the pulp. Because cold-press juicers are more efficient at squeezing out the juice, the pulp that comes out is a lot dryer indicating superior juice extraction. The full list of the 10 benefits is available on http://FreeJuicingRecipe.com/Masticating-vs-Centrifugal/. It's an important read for anyone planning on buying a vegetable/fruit juicer of any kind.
The 5 BEST Masticating Juicers include models from popular brands like Omega, Breville, Green Star and Super Angel. This list consists of both single-gear models as well as twin-gear triturating juicers. Of the single-auger type, most are the conventional 'horizontal' type while one of them is a vertical masticating juicer. Vertical models have the advantage of occupying less space on the kitchen counter top. However, to-date, horizontal masticating juice extractors remain more popular over the vertical models.
In addition, they also list the 10 BEST Juicers overall. This list consists of both cold-press juicers and centrifugal extractors. The list of best centrifugal juicers happens to be mainly from Breville and Hamilton Beach.
There's no doubt that juicing is healthy; however, whether it is healthier than eating the whole fruit/vegetable is still under debate. Proponents say that nutrient absorption by the digestive tract is more efficient from juice than from the whole fruit. However, there isn't any hard scientific evidence for or against this, to-date. However, what is clear is that, with the help of a juicer, it is possible to squeeze in 3 carrots, 1 beet, 1 green apple, 4 stalks of celery, handful each of spinach and parsley, 1 cucumber and 1 inch knob ginger into one glass of juice that can be sipped within a few minutes, whereas it would be near-impossible for one to eat all those fruits and vegetables in one sitting.
In addition to reviewing the best masticating juicer models, they have also made available a free guide on healthy juicing and healthy juicing recipes on http://FreeJuicingRecipe.com/Free-Stuff/. They are highly recommended reading material for anyone getting started with juicing.