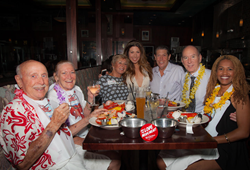 Palm Beach Gardens, FL (PRWEB) August 31, 2017
In its usual glamorous fashion, top Florida matchmaking service Revolution Dating is going all-out to celebrate today's National Matchmaker Day.
Festivities kicked off earlier this week with an end-of-summer bash - a Lobster "Love-Fest" Clambake at Spoto's Oyster Bar and Lounge in Palm Beach Gardens. The spectacular event was a huge success, bringing together the best singles from across the state, highlighting Revolution Dating's many success-story couples, and celebrating the firm's founder Kelly Leary's unparalleled success in the art of matchmaking.
Those who've wanted to try their own hand at matchmaking now also have a unique chance to do so thanks to Revolution Dating. The premier firm has been called upon by Delray and Boca Newspapers and Delray Morning Live to bring the region its own version of The Bachelor/Bachelorette. Six of the hottest, most eligible local singles have been selected for the public to choose the most ideal match, and give them the opportunity for an unforgettable night out. Interested novice matchmakers can view the candidates in the latest issue, and vote by emailing the publication or posting on its social media pages. Participating voters will also receive a complimentary trial membership to Revolution Dating.
But Revolution Dating's staff of matchmaker royalty and first lady Kelly Leary aren't done yet. The National Matchmaker Day celebrations will continue through the coming weeks and into the fall season.
One of the firm's most anticipated events of the year, the Great Gatsby party, is quickly approaching in late September. The annual extravaganza will feature prohibition-era speakeasy décor, period costumes, jazz music and so much more. Already on the radar of the most sought-after singles in Florida, this event is available exclusively to Revolution Dating members. Space is limited and in demand, so those interested in attending should contact Revolution Dating immediately.
"National Matchmaker Day is one of my favorite days of the entire year, but at Revolution Dating we never stop celebrating!" said Revolution Dating Founder and President Kelly Leary. "Love is the reason for life, and helping match people with their soulmate and watching their love flourish into something beautiful is what I was put on this Earth to do. Our Lobster 'Love-Fest' Clam Bake was a fantastic success, but is only the beginning for the epic string of events that lie ahead of our club in the coming days, weeks and months!"
Leary is renowned as THE Florida Matchmaker, thanks to her amazing results in forging countless relationships over the past 26 years, backed by her Master's Degree in Clinical Psychology. Her premier firm Revolution Dating goes far beyond the average dating company by providing personalized services and remaining invested in every step of their clients' dating success. The firm host an array of singles events, and provides image consulting, profile building, and even mock dates with feedback for improvement.
About Revolution Dating
Revolution Dating is an exclusive Florida matchmaking service that helps single, divorced or widowed men and women find friendship and romance. With clients ranging from Vero Beach to Broward County, the company goes far beyond online dating and hosts a wide variety of events and provides individually tailored matchmaking and coaching. Reach Revolution Dating by phone at 561-630-XOXO (9696) or online at http://www.revolutiondating.com. Consultations are available by appointment only at 5090 PGA Boulevard, Suite 208, Palm Beach Gardens, FL 33418.