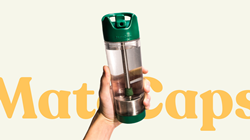 Yerba mate offers the strength of coffee, the health benefits of tea, and the euphoria of chocolate all in one beverage
TACOMA, Wash. (PRWEB) September 02, 2020
The instant success of the MateCaps Kickstarter campaign proves demand is high for alternative energy drinks that are not only healthy but also good for the environment. The creators of MateCaps saw a need to provide energy and focus, without the jitters, so they created naked yerba mate Caps to enjoy in a multi-use reusable bottle. They are available now on Kickstarter at Early Bird discounts of up to 42%.
Yerba mate is a traditional South American brew known for offering the "strength of coffee, the health benefits of tea, and the euphoria of chocolate" all in one beverage. MateCaps offers a 100% compostable energy drink available through a monthly subscription service. Rather than throwing single-use containers in the trash, MateCaps are package-free.
"We always knew we had a great product and it's exciting to be able to share it with so many backers," said Marcos Stubrin, Co-Founder and CEO of MateCaps. "It feels great to offer something that fills a need without having a negative effect on the environment. We're looking forward to shipping MateCaps to every corner of the world."
How it Works:

The MateCaps multi-use bottle is 14 oz. and has the same functions as a reusable travel cup
Users can brew mate with Caps or loose-leaf yerba mate and store any hot or cold drink
Fill up the bottle with water, place the Cap inside the custom filter and go
MateCaps offers fresh and tasty blends of organic yerba mate, each with unique benefits and functions
"Our dream is to introduce yerba mate feel good energy to help everyone say goodbye to single-use packaging and reach their highest potential," said Stubrin.
For more information and to pre-order MateCaps at early bird discounts, visit the MateCaps crowdfunding page on Kickstarter. Kickstarter backers receive a lifetime 25% discount.
The MateCaps Mission - The purpose of MateCaps is to build a conscious community and to come together in creating a larger impact in the world. Backing MateCaps means fighting deforestation in the Amazon and supporting local women entrepreneurs from the land of yerba mate in Misiones, Argentina. The bottle is made from durable, FDA approved and environmentally friendly materials. It was sustainably designed to offer multiple functions and to be a long-time MATE.