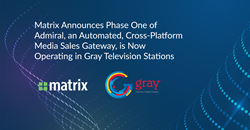 PITTSBURGH (PRWEB) November 01, 2022
Matrix Solutions, the leader in global media revenue management technology, announces Gray Television has successfully launched the first phase of Matrix's automated, cross-platform Media Sales Gateway, Admiral, across all stations in all markets. This initial stage, including a modernized sales proposal system for linear advertising, serves as an essential jumping-off point for the media industry's transition to converged advertising.
The fully developed Media Sales Gateway will provide the infrastructure and workflows to automate converged advertising sales, from demand through order fulfillment, digital and OTT inventory, traditional spot, and impression-based/dynamic ad insertion for live linear.
Advancements offered within the proposal system include incorporating multiple markets and different rate cards within the same proposal. As a fully transparent and interoperable system built on open API infrastructure, Admiral is an open system that provides flexibility for both the ingestion and dissemination of all data, including any measurement, currency, or rate and inventory optimization. Its dynamic interoperability ensures that orders are routed automatically to the appropriate execution system. Additionally, Admiral will shift orders to new execution if how and what a client sells changes, dramatically reducing the impact of change.
"We view this phase as a significant first step in transforming our business as we evolve as entities," shared Karen Youger, SVP, Sales Operations, Gray Television. "We are thrilled to be a vested partner working alongside Matrix as they develop this next-level technology that will enable us and our industry to adopt and accelerate converged advertising workflows with ease."
Announced earlier this year, Gray Television is one of four investors in Admiral, which is being developed and released in phases. The next stage will include a fully converged experience for traditional linear, digital, and OTT workflows, with a completion target of July 2023.
"Our vision for Admiral has remained steadfast as we continue to work with our media partners to deliver a system that allows them to sell linear like digital and to do so in a manner that leap-frogs moving from linear to impression-based workflows and, ultimately, dynamic ad insertion" shared Mark Gorman, CEO, Matrix. "I often relate the development of Admiral to that of building a bridge as we are connecting media companies to a converged, cross-platform experience, where it does not matter what you are selling, but it is easy to facilitate with significantly less friction."
In addition to Gray Television, CoxReps, Graham Media, and Hearst Television are also investors in Admiral. For more information on Matrix's Sales Gateway, Admiral, contact: admiral@matrixformedia.com.
About Matrix
Matrix Solutions is a forward-thinking technology company that empowers the media ad sales world with intelligence, technology, and expertise. It provides the technology backbone for the end-to-end workflow for sales organizations transacting in the media marketplace. Its flagship solution, Monarch, is the only global ad sales platform built specifically for media, delivering the CRM and business intelligence necessary to optimize inventory. In contrast, the Matrix Sales Gateway, a sell-side dedicated platform, allows for the ingestion and dissemination of data from all providers in the ecosystem that participate in the negotiation and execution process. Matrix manages more than $13 billion annually in media ad revenue, has over 10K users, maintains over 95% renewal rate, and has founded the annual Media Ad Sales Summit and Media Ad Sales Council (MASC) – both of which bring together industry leaders to advance the future of media ad sales. For more information, please visit matrixformedia.com.