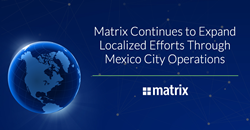 We are focused on consistent advancement of the products we provide and that can only happen through investment in our team. Having the right team in place will allow our Latin American customers to benefit from the full scope of available services Matrix has to offer them
PITTSBURGH (PRWEB) July 15, 2020
Matrix, the only global ad sales platform built for media, expands their Mexico City operations to both support localized product and service solutions and customers in the Latin American Market. Matrix's global media ad sales platform, Monarch, runs on a fully localized Spanish version, delivering a highly intuitive experience, enterprise-wide, that enables users to optimize advertising revenue. With a well-established team in place and continued growth of product suite, Matrix deemed now the time to expand operations to ensure customers in the market have access to and are capitalizing on their latest solutions designed to improve ad workflow automation across all media sectors.
To support this effort, Matrix recently announced the addition of Biren Bharucha as VP of Enterprise Sales to lead the effort of expanding the Matrix footprint and customer base. Biren is based out of the US but will receive additional support from the company's newest hire, Alejandro Irazaba, a Sales Executive who will work out of the Mexico City office to serve and support new and existing customers in the Latin American market. Matrix has also added Sr. Developers and QA resources to their team in Mexico City, who will help further extend the company's service offering and enhance operational efficiencies. More specifically, the team will play a pivotal role in executing the company's data analysis and AI strategies.
"Our efforts to support and grow our team on the ground in Mexico is a result of a successful first year of operations there," shared Mark Gorman, CEO, Matrix. "Even throughout the continued hardships presented due to COVID-19, the Matrix team in 2020 has seen growth in customers, delivery of automated media functionality, and expansion through all media sectors. We are focused on consistent advancement of the products we provide and that can only happen through investment in our team. Having the right team in place will allow our Latin American customers to benefit from the full scope of available services Matrix has to offer them."
For more information on Matrix, visit matrixformedia.com.
About Matrix
Matrix makes media happen by enabling efficiencies and working to uncover revenue so media companies can create content, entertain, and inform. Its flagship product, Monarch, is the only global ad sales platform built for media – transforming chaotic data into actionable sales information that delivers the insights necessary for prospecting, managing, evaluating and closing business. The company manages more than $13 billion in media ad revenue, offering its best-in-class analytics, sales intelligence, media-specific CRM and sales tools to more than 10,000 media sellers to more efficiently manage their workflow. For more information, please visit http://www.matrixformedia.com.