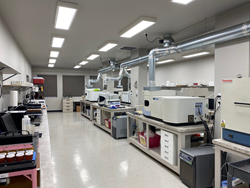 "Jon Cox and his team have truly set themselves apart from their competition by combining industry-leading expertise with an impressive focus on servicing their customers," stated Robert Wiebe, CEO of Matrix Sciences
CHICAGO (PRWEB) January 11, 2021
Matrix Sciences is pleased to announce the acquisition of Kuo Testing Laboratories (KTL). KTL is Matrix's third acquisition with a focus on the Agriculture market, and eleventh acquisition in the past three years. It further extends Matrix's reach in the Pacific Northwest and expands its scope of services to address testing needs across the entire Agri-Food supply chain.
"KTL is an exceptional company and a great addition to the Matrix family," said Robert Wiebe, CEO of Matrix Sciences. "Jon Cox and his team have truly set themselves apart from their competition by combining industry-leading expertise with an impressive focus on servicing their customers."
"We are excited to be a part of Matrix," said Jon Cox, President of KTL. "We have the financial resources and support to accelerate the growth of our laboratories. It is exciting to be a part of something bigger in a way that will help us improve and expand the scope of our services to our clients and community."
Kuo Testing Laboratories was founded in 1993 and provides soil, water and plant tissue analysis to help producers and Argi-Food businesses optimize their crop yields, meet regulatory requirements and make informed agronomic decisions. It operates facilities in Othello and Pasco (WA), as well as Umatilla (OR). In September 2020, KTL expanded into a new state of the art facility in Othello to accommodate both growth and an expansion of services.
Matrix Sciences is an industry leader with a growing network providing analytical and advisory services to address the core technical needs of agri-food producers and processors. Its network of 18 facilities provides support from cultivation to consumer and ideation to successful product launch.