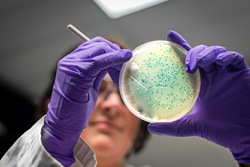 "MicroBEST has earned the loyalty of an impressive group of customers by delivering outstanding service and technical support," Robert Wiebe, CEO - Matrix Sciences
CHICAGO (PRWEB) December 17, 2020
Matrix Sciences is pleased to announce the acquisition of MicroBEST Laboratories. With this strategic expansion into the Detroit area, Matrix's microbiology laboratory network can now provide local service in a growing list of major centers including Chicago, Los Angeles, Philadelphia, Columbus, Green Bay and Boston.
"We are very proud to have Kristy Farah and her team join Matrix," said Robert Wiebe, CEO of Matrix Sciences. "MicroBEST has earned the loyalty of an impressive group of customers by delivering outstanding service and technical support. They are a great fit and another important addition to our network."
"Joining Matrix Sciences was the right choice for MicroBEST," said Kristy Farah, President of MicroBEST Laboratories. "In addition to alignment with our values, the commitment to further investing in our lab and expanding our services makes Matrix a great next step for my team and the customers that we strive to service."
After a career in food manufacturing, Kristy Farah founded MicroBEST in 2010. Since then, the lab has become a leader in the Detroit area. She will join Matrix's management team and will remain the Laboratory Director in the Detroit facility,
Matrix Sciences is a growing network with the shared purpose of delivering accurate, timely and insightful information to address the core technical needs of agri-food producers and processors. Its network of 16 facilities provides support from cultivation to consumer and ideation to successful product launch.