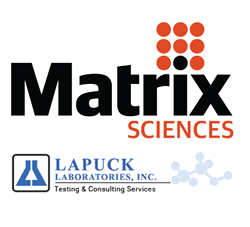 "Lapuck Laboratories fits well within our network and provides a strong base to further investment in this very important region," Robert Wiebe, CEO
CHICAGO (PRWEB) June 03, 2020
Matrix Sciences International Inc is pleased to announce the acquisition of Lapuck Laboratories in Canton, MA.
"Dr Zadeh and his team have built an exceptional laboratory, based on real scientific know-how and providing great service to their clients," said Robert Wiebe, CEO of Matrix Sciences. "Lapuck Laboratories fits well within our network and provides a strong base to further investment in this very important region."
Lapuck Laboratories was founded in 1966 and has been owned and operated by Dr. Khalil Zadeh since 1994. Dr. Zadeh's extensive background in public health and medical microbiology established Lapuck as a resource to both industry and government.
"I decided to join Matrix Sciences to broaden the services that I could offer my clients and because of their strategy and success in growing their network," said Dr. Zadeh. "There is tremendous opportunity to further grow the relationships with our longstanding clients and to expand our reach in New England."
Lapuck is Matrix's seventh acquisition in the past three years. In addition to these investments, Matrix has built de novo laboratories in the Los Angeles and Philadelphia areas and founded a differentiated data analytics business. Matrix operates seven microbiology laboratories, a nutritional chemistry laboratory, a pesticide residue laboratory, as well as sensory and consumer research facilities in both Canada and the United States.
About Matrix Sciences
Matrix Sciences is a growing network with the shared purpose of delivering accurate, timely and insightful information so that customers have what they need to bring safe, quality food to market. Its laboratory network includes facilities in Columbus, Chicago, Green Bay, Portland, northern Indiana, Philadelphia and California, which is complemented by is sensory and product research facilities in Michigan and across Canada.