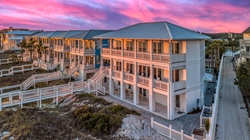 The real estate market along 30A is flourishing. Investors are keeping a close eye on the entire region, as the value of houses keeps increasing thanks to renewed interest in vacation houses.
CARILLON BEACH, Fla. (PRWEB) December 09, 2019
Engel & Völkers today announced its representation of Emmy winning producer, actor, philanthropist and former football player Matt Battaglia in the listing of his beachfront estate at 517 Beachside Gardens, Carillon Beach. License Partner and Private Office advisor, Beau Blankenship is the listing agent.
"I chose to work with Beau because of his successful track record in the market," said Battaglia. "Beau's expertise paired with the leverage of Engel & Völkers' international network and extensive marketing made choosing the representation of my property a no-brainer."
The newly built home offers eight-bedrooms and 10-bathrooms spanning 6,096-square-feet, in addition to a private pool. The estate features 140-feet of private beach frontage, almost triple that of the average waterfront home along 30A, as well as 60-feet of interior gulf-front views compared to the average 35 feet. Located inside a gated community, the listing also comes equipped with five communal pools, tennis courts, 12-acre lake and private, security patrolled beach. Listed at $6,995,000, the property offers a projected annual rental income of over $400,000 and is currently appraised at $8,400,000.
"It is an honor and privilege to represent both Matt and his exquisite property," said Blankenship. "Offering unique opportunities as both an investment or legacy property, this Gulf-front home appeals to a wide audience of investors and end users. I plan to strategically utilize Engel & Völkers' extensive network to connect with our feeder markets from around the world to find the right buyer for this home."
Battaglia purchased the land in September of 2015 with intentions to build a retirement home for he and his wife. Construction of the home completed in March 2019, but ultimately Battaglia decided to keep his primary residency in California.
"The real estate market along 30A is flourishing," said Blankenship. "Investors are keeping a close eye on the entire region, as the value of houses keeps increasing thanks to renewed interest in vacation houses. Northwest Florida offers year-round warm weather, close proximity to the water, a vibrant tourist scene and numerous attractions — a perfect combination."
Battaglia is an Emmy winning producer, has co-produced a two-time Golden Globe nominated film and has been an actor in nearly 100 films, network pilots and television shows. He is best known for his roles in "Friends," "Thor," and "True Detective." He is currently starring alongside Nick Nolte, Josh Hartnett and Barbara Hershey in Paramount's new television series, "Paradise Lost" due out in 2020. Prior to entering the entertainment industry, Battaglia was an All-American football player at the University of Louisville and went on to play professionally with the Philadelphia Eagles. Battaglia is also an avid philanthropist, having created The Mint Jubilee, a celebrity driven charity event at the Kentucky Derby, which has raised millions of dollars for cancer patients.
###
Press contact:
Linzee Werkmeister, Director, Public Relations & Franchise Support
Email: Linzee.Werkmeister(at)evrealestate.com
Tel: (239) 348-9000
About Engel & Völkers:
Engel & Völkers is a global luxury real estate brand. Founded in Hamburg, Germany in 1977, Engel & Völkers draws on its rich European history to deliver a fresh approach to luxury real estate in the Americas with a focus on creating a bespoke, white-glove concierge client experience at every stage of the home buying or selling process for today's savvy homeowner. Engel & Völkers currently operates approximately 175 shop locations with more than 3,000 real estate advisors in the Americas, contributing to the brand's global network of over 11,000 real estate professionals in more than 30 countries, offering both private and institutional clients a professionally tailored range of luxury services, including real estate, yachting and aviation. Committed to exceptional service, Engel & Völkers supports its advisors with an array of premium quality business services; marketing programs and platforms; as well as access to its global network of real estate professionals, property listings and market data. Each brokerage is independently owned and operated. For more information, visit evrealestate.com.
About Engel & Völkers Florida:
Engel & Völkers Florida is the Master License Partner of the global luxury real estate brand Engel & Völkers in the state of Florida. Recognized for uniquely recruiting, training and equipping some of the top professionals in the real estate industry, Engel & Völkers Florida's exclusive franchise model positions its license partners at the top of the premium market to gain market share and support their bottom line. The company represents franchise locations in: 30A Beaches, Belleair, Boca Raton, Bonita Springs-Estero, Cape Coral, Clermont, Delray Beach, Destin, Fort Lauderdale, Fort Myers Downtown, Jacksonville, Jacksonville Beach, Jupiter, Orlando Downtown, Leesburg, Madeira Beach, Marco Island, Melbourne Central, Melbourne Downtown, Miami-Coral Gables, Olde Naples, Orlando Winter Park, Palm Beach, South Tampa, St. Pete, Stuart, Wellington, and Windermere.
Engel & Völkers Florida is continuing to strategically strengthen and expand its presence in premium real estate markets across the state of Florida. If you would like to know more about the Engel & Völkers brand or how to join its global network, which is known for demonstrating competence, exclusivity and passion, feel free to call our corporate office, located at 633 Tamiami Trl N, Suite 201, Naples, FL 34102 USA. Tel: +1 239-348-9000.
For more information about Engel & Völkers Florida, please visit evfranchise.com