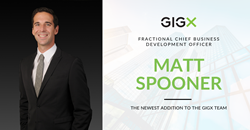 "When I heard about GigX, I was immediately drawn to it," says Matt. "The one-of-a-kind platform that John Fox and Chuck Lee have created with GigX is both brilliant and highly relevant. I'm thrilled to join them in their efforts to steward the future of work."
IRVINE, Calif. (PRWEB) June 13, 2019
GigX, the world's #1 fractional CxO directory, welcomes Matt Spooner into the role of Fractional Chief Business Development Officer. As the FCBDO, Matt will leverage his past experience working with executive talent and companies seeking leaders to help GigX develop strategic initiatives and drive growth.
Matt comes to GigX from McDermott & Bull, an executive search firm that sources top-level talent for organizations. As VP of Executive Engagement, Matt led the company's Executive Network program that currently supports over 10,000 executives, the vast majority of whom joined the network during a time of career transition.
During his five-year tenure at McDermott & Bull, Matt witnessed how the swiftly changing employment landscape is impacting leaders at the Director level and above. The increasing churn rate of executive talent is making many senior-level leaders reconsider traditional employment, and turn their attention to new approaches of career development. "Whether it was building consultancies, supporting startups, buying franchise businesses, considering interim opportunities, or gigging, there was a ton of talk – and action – amongst my members around generating 'portfolio careers,'" said Matt.
In his previous role, Matt also saw an escalating corporate hunger for fractional talent. "Despite the fact that it's been nearly a decade since the Great Recession, organizations are often still reluctant to go 'all in' on senior-level talent," he said. More and more companies are discovering the benefits of hiring fractional executives. Many FCxOs previously held full-time leadership positions at larger companies, and bring all of that experience and expertise to their fractional clients. Organizations receive 100% of a fractional leader's skills and relationships, but for much less expense than a full-time hire.
From multiple angles, Matt sees that the future of leadership is fractional. A study from the University of Pennsylvania – Wharton School predicts that the gig economy will grow to $2.7 trillion globally by 2025. Excited by this bright future, Matt began seeking opportunities to help leaders leverage the burgeoning gig economy and build portfolio careers.
"When I heard about GigX, I was immediately drawn to it," says Matt. "The one-of-a-kind platform that John Fox and Chuck Lee have created with GigX is both brilliant and highly relevant. I'm thrilled to join them in their efforts to steward the future of work."
About GigX
GigX, the world's #1 fractional CxO directory, provides a virtual handshake between fractional CxOs and organizations seeking leadership at the director level and above. GigX is helping executives ride the wave of the new gig economy, where fractional employment is on the rise. Unlike freelance, contract or interim work that eventually comes to an end, fractional employment is long-term and provides a steady income. Anyone can search the GigX Directory for free.