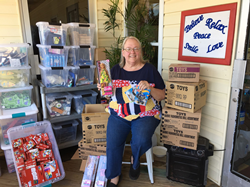 KILL DEVIL HILLS, N.C. (PRWEB) October 16, 2019
Having made it safely through another Hatteras Island hurricane, Sun Realty's Director of Information Technology, Debi Daugherty, knew there were neighbors in need who could use assistance. She got to work right away, seeking input on community needs and writing to major corporations for help. Knowing the children of Ocracoke likely lost all their toys to flood waters, Debi reached out to Mattel® for help. And boy did they come through!
Mattel® sent 100 each of Barbie dolls, Hot Wheels cars, UNO card games, crayons and markers down to Hatteras Island for the children of Ocracoke. Toys are being delivered on October 14th by Pastor Tim Fitch of the Rodanthe, Waves and Salvo Methodist Churches and will surely bring smiles to faces of the children on the island and offer a little bit of relief for their parents.
Debi also successfully achieved donations of pet supplies from Chewy.com, to help families struggling with recovery take care of their furry family members. Bringing comfort and smiles to the entire family was important to her as she considered what could be done to assist in the face of the many challenges brought about by Hurricane Dorian.
Debi noted that the children are also in need of toys for Christmas. The students of Cape Hatteras Secondary School's FBLA club are also holding a Christmas decoration drive for residents of Ocracoke Island. Details can be found on the group's Facebook page: http://bit.ly/CHSSGivingTree.
We thank Debi for her tireless efforts in seeking aid for her neighbors in need. There will be many needs to come. If you are interested in donating to help residents and business owners of Hatteras and Ocracoke, please contact the Outer Banks Community Foundation at https://www.obcf.org.
About Sun Realty
Sun Realty is a real estate sales and vacation rental company on the Outer Banks of North Carolina. Established in 1980 by founder and CEO Paul Breaux, Sun covers the entire Outer Banks with 7 offices: Harbinger, Corolla, Duck, Kitty Hawk, Kill Devil Hills, Salvo and Avon. Sun Realty represents the largest selection of vacation rentals on the Outer Banks and has a sales team in every office. Visit http://www.SunRealtyOBX.com and http://www.SunRealtyNC.com for more information.