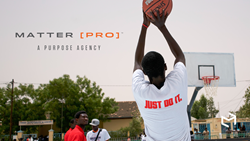 My hope is that through MATTER Pro, other athletes can also embrace causes important to them and create their own personal legacy. - Gorgui Dieng
MINNEAPOLIS (PRWEB) December 16, 2019
MATTER today announced the creation of MATTER Pro, a purpose agency built around an experienced team of dedicated individuals focused on empowering athletes to activate their impact in the community. By designing a brand platform unique to each athlete, helping them to discover their purpose, and developing a multifaceted strategy to activate it, MATTER Pro ensures amplification of an athlete's impact for maximum effectiveness.
"There has been a rich history of athletes using their influence to create change in the world. Today, more than ever, there is an expectation for athletes to lead that change," stated Quenton Marty, President, MATTER. "As a result, an incredible opportunity exists for athletes to build their brand around purpose. By leveraging their platform and visibility, athletes can unite and inspire their passionate fan base around cause in a collective effort to multiply their impact, building something that will last."
MATTER Pro was developed by MATTER staff and cause marketing pioneer Lou Raiola. Funding for the MATTER Pro initiative comes through a partnership of the Roger and Nancy McCabe Foundation, the Gorgui Dieng Foundation and MATTER.
A firm believer in building a lasting legacy and a founding partner of MATTER Pro, Gorgui Dieng commented, "MATTER and I have worked together for many years, making a difference in my home country of Senegal. My hope is that through MATTER Pro, other athletes can also embrace causes important to them and create their own personal legacy."
MATTER Pro's advisory board members bring a valuable perspective to MATTER Pro's efforts. Advisory board members are:

Gorgui Dieng - Founding Partner of MATTER Pro; Founder, Gorgui Dieng Foundation and current center, Minnesota Timberwolves
Matt Makovec - Director of Community Relations & NBA2K Player Operations for the Los Angeles Lakers
Roger and Nancy McCabe - Founding Partners of MATTER Pro
Tony Sanneh - Founder & CEO, The Sanneh Foundation and retired professional soccer player
Advisory board member Matt Makovec concluded, "I believe MATTER Pro offers a unique opportunity to help athletes really embrace purpose through their platform as athletes, in turn bettering the world."
About MATTER
MATTER is a Minnesota-based global nonprofit on a mission to move people forward by giving them a chance at a healthier life. Throughout the United States, MATTER activates healthy eating for kids and families with the MATTERbox, a novel solution to healthy food access and nutrition education. Internationally, MATTER addresses these barriers by giving hospitals the tools they need to care for the sick and injured in dignified ways, and by designing solutions to create diversified and resilient farms. Hope and opportunity also reach people through the MATTER Innovation Hub, a portable learning environment available anywhere in the world. Learn more at http://www.matter.ngo.