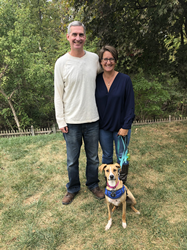 When we saw the ingredients in Pet Wants' products – like the salmon treats that only included salmon – and we saw the immediate impact the food had on Alli's fur and energy levels, as well as how much she liked it, we knew we wanted to open our own Pet Wants. - Carla Mangone
CHANTILLY, Va. (PRWEB) November 19, 2019
Carla and Matthew Mangone spent the last 15 years checking ingredient labels to protect their kids with food allergies. When they adopted their dog, Alli, they found themselves doing the same thing for her food and treats. What they found was discouraging – the products they were buying were full of fillers and preservatives. The Mangones' journey for a better option for Alli resulted in them choosing Pet Wants. Now the two are excited to be opening their own Pet Wants business in Chantilly.
Pet Wants' specially-crafted, private-label pet food formulas are made in small batches with fresh, natural ingredients enhanced with vitamins and minerals for a complete and balanced diet in every bowl. Pet Wants Chantilly has multiple blends of dog and cat food formulas as well as healing salve, calming balm, anti-itch spray, paw wax and more. Pet Wants Chantilly is a mobile business that offers free, personal delivery to Oak Hill, Chantilly, South Riding, Centreville and Fairfax, as well as the rest of Northern Virginia.
"We found Pet Wants while looking for better options for Alli, both because we weren't happy with the food we were buying and because she didn't like it either. She was a finicky eater and she'd only eat her dry food if we put wet food on top of it. When we brought home the first bag of Pet Wants Alli was jumping all over me. She scarfed down the Pet Wants food that first day and has done so every day since," Carla said. "When we saw the ingredients in Pet Wants' products – like the salmon treats that only included salmon – and we saw the immediate impact the food had on her fur and energy levels, as well as how much she liked it, we knew we wanted to open our own Pet Wants."
Pet Wants has a 100-percent, money-back guarantee on the freshness and quality of the food and the company only sources the best salmon, chicken, lamb, brown rice and other ingredients available. There's no sugar added, no fillers and no animal by-products and Pet Wants never uses corn, wheat, soy or dyes, which makes the food great for animals with allergies.
Carla and Matt live in Oak Hill with their three children, Nick, Peter and Caroline, as well as their rescue dog, Alli. They've lived in Northern Virginia for more than 25 years and they have strong ties to the community through their children's school and athletic activities. In addition to her work with Pet Wants, Carla owns and operates an allergy-friendly bakery. Matthew is a Credit Manager for a company in McLean, Va.
"Before we adopted Alli, we had no idea the ingredients in pet food were so complicated and the food you buy could have been sitting in a warehouse for a year before you brought it home. With Pet Wants, I know the food is fresh and I can go through every ingredient and tell you what it is and why it's in our food," Matthew said. "Alli is a big part of our lives – she's a member of our family – and we want to make sure she has the happiest, healthiest life possible. That starts with making sure she's getting the nutrition she needs and, with Pet Wants, there's no question. We're looking forward to meeting other pet families and helping them find the best products for their individual pets."
To learn more about Pet Wants Chantilly call 703-349-1831, email CMangone@PetWants.com or visit http://www.PetWants.com/Chantilly.