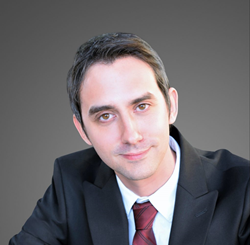 Matt's diverse skillset, can-do attitude, and natural acumen for public relations make him a fantastic addition to Red Banyan.
DEERFIELD BEACH, Fla. (PRWEB) April 02, 2019
Leading strategic communications firm Red Banyan is pleased to announce the hiring and swift advancement of Matthew Carswell as its newest Account Executive. In this position, Carswell will work with the agency's account teams, conducting research, copywriting, media outreach and contributing to the firm's daily operations.
Originally hired as an Account Coordinator in September of 2018, Carswell's strong skillset and professionalism led to his rapid promotion as an Account Executive. Carswell holds a bachelor's degree in English with a minor in Communications from Appalachian State University in North Carolina, where he developed dynamic writing abilities and a passion for communications. He also brings to Red Banyan a professional background in the digital marketing and sales industries.
"We are thrilled to have Matt join our growing team of communications professionals," said Red Banyan's Director of Accounts Pamela Armstrong. "Matt's diverse skillset, can-do attitude, and natural acumen for public relations make him a fantastic addition to Red Banyan."
Carswell added: "I am very excited to be working with Red Banyan in its Florida headquarters. The agency's dedicated PR professionals take pride in what they do and deliver tangible results to clients every day. I look forward to further developing my skills and help add value for our diverse array of clients."
Carswell joined Red Banyan during a period of substantial growth for the company. In addition to the agency's existing offices in Florida and Washington, D.C., Red Banyan recently launched operations in Dallas, TX and Atlanta, GA, as its diverse portfolio of clients expanded throughout 2018. The firm's wide-range of services include media relations, crisis communications, reputation management, litigation support and social media management.
About Red Banyan
Red Banyan is a top public relations agency with clients across the country and internationally. With offices in Florida, Texas, Washington, D.C. and Georgia, Red Banyan combines a substantive understanding of complex issues with the experience and skills needed to execute campaigns that deliver results. Specializing in crisis communications, corporate public relations, government relations, and legal PR, Red Banyan provides an integrated approach to communications rooted in strategy. Learn more at https://www.redbanyan.com, become a fan on the Red Banyan Facebook page and follow the firm on Twitter, Google+ and LinkedIn.