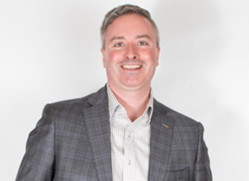 "We will look to Matt to identify and implement best practices to make the underwriting processes and mutual appetite opportunities with our agency partnerships more efficient and effective," Benedikt Sander, Executive Vice President, Insurance Operations
NEW BERLIN, N.Y. (PRWEB) April 22, 2021
Matthew (Matt) Hudnall has joined Preferred Mutual Insurance Company ("Preferred Mutual") as Senior Vice President, Underwriting. Hudnall will be responsible for providing leadership and strategic vision to the underwriting function, to product development initiatives, as well as agency partnership development.
Hudnall brings to Preferred Mutual over 20 years of underwriting service experience, and operational and leadership knowledge with considerable time in commercial lines underwriting. Most recently, Hudnall was Vice President of Small Commercial New Business Underwriting at the Hanover Insurance Group, in addition to holding several leadership roles in underwriting services with several national carriers. Prior to joining Preferred Mutual, Hudnall focused on driving profitable growth and retention strategies, profit improvement, improving customer service and agency interactions, establishing an underwriting and sales culture that emphasized the importance of the independent agent, and establishing underwriting processing efficiencies.
"As Preferred Mutual continues to implement strategic initiatives to enhance our position in the marketplace, we will look to Matt to identify and implement best practices to make the underwriting processes and mutual appetite opportunities with our agency partnerships more efficient and effective," Benedikt Sander, Executive Vice President, Insurance Operations said. "Matt will also play a key role in providing long-term product solutions to our policyholders, as well as continue the relationship-focused, solution-oriented approach our agency partners have come to appreciate from Preferred Mutual."
About Preferred Mutual
Preferred Mutual Insurance Company provides property and casualty insurance coverage to more than 232,000 individual and business customers through a network of more than 500 independent agents throughout New York, New Jersey, Massachusetts and New Hampshire. In business since 1896, Preferred Mutual is rated "A" by A.M. Best Company and is headquartered in New Berlin, New York. Learn more at http://www.preferredmutual.com.