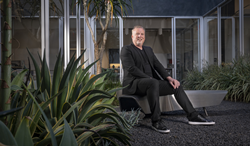 "Matthew has a real commitment to finding innovative ways to design better performing buildings," said San Diego studio director David Gilmore. "His experience in integrated design and focus on sustainability make him a perfect fit for LPA."
Irvine (PRWEB) February 19, 2020
LPA Design Studios has added industry leader Matthew Porreca as Principal and Design Director in its San Diego studio, where he will help lead design efforts on commercial, education, life science, mixed-use and civic projects.
Porreca has spent more than 25 years leading integrated design teams to develop award-winning, high-performance buildings. He worked on several landmark projects, including the new San Diego corporate campus for chipmaker Qualcomm, the UCLA Henry Samueli School of Engineering and Applied Science WIN-GEM Research Building in Los Angeles and the Kauffman Center for the Performing Arts in Kansas City. Most recently he served as Principal and Design Director for BNIM's San Diego office.
"Matthew has a real commitment to finding innovative ways to design better performing buildings," said San Diego studio director David Gilmore. "His experience in integrated design and focus on sustainability make him a perfect fit for LPA."
Porreca has led the design of several innovative zero net energy projects and is an active supporter of the AIA 2030 Commitment, which seeks to make new projects carbon neutral by 2030. Last year LPA was one of only 16 firms in the country – and, by far, the largest – to meet the 2030 Commitment of a 70 percent reduction in fossil fuel use in new buildings.
In his new role, Porreca will champion an inclusive, collaborative design process that looks to increase energy efficiency and better serve the health and well-being of users. Porreca is a vocal advocate for the importance of a more human-focused design approach. He is deeply passionate about sustainability and previously served on the San Diego Green Building Council board of directors and is the founding co-chair of the Living Building Collaborative in San Diego. He is a frequent speaker on innovative high-performance design strategies.
"I'm extremely excited about the potential for the future," Porreca said. "LPA is a team committed to elevating design excellence and performance in a diversity of practice areas positioned to make profound positive impact within their communities."
The addition of Porreca to the San Diego team reflects LPA's continued focus on developing studios that seek the highest standards of design and performance, says LPA Chief Executive Officer Wendy Rogers. LPA is an integrated firm with engineers, landscape architects and interior designers working together as a unit.
"Matthew's talent, ideas and commitment to better performing design will make us all better," Rogers said. "We're excited about the different ways he can add to our growing San Diego studio."
About
Founded in 1965, LPA specializes in creating innovative environments that work better, do more with less and improve people's lives. An integrated design firm with six studios in California and Texas, LPA's team includes more than 400 in-house architects, master planners, engineers, interior designers, landscape architects and research analysts, working across a wide array of sectors. For more information, visit lpadesignstudios.com.