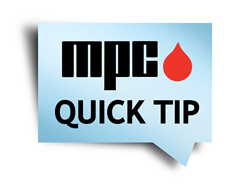 Delaware, OH (PRWEB) May 15, 2017
Matthews Paint recently launched a new, ongoing series of online tips to provide sign professionals expert advice on a variety of sign paint topics. Each month, Matthews Paint will release a new MPC Quick Tip that will offer practical, hands-on advice regarding Matthews Paint products, services, tools and support as well as general sign paint application information. Each MPC Quick Tip runs between one and three minutes, making it a convenient way for sign fabricators, distributors, designers and architects to increase their sign paint knowledge.
Currently, there are four MPC Quick Tips:
1. Demonstrating how customers can use an online tool to quickly find the CMYK and RGB values of Matthews Paint Spectrum of Color and Color Selector colors
2. Reviewing the free Matthews Paint technical training class, who should participate and how to register
3. Showing customers how to save and find custom paint formulas in the Online Color Formula Retrieval System
4. Introducing the 2.1 Low VOC Gray Epoxy Primer, explaining what it is and when to use it
Upcoming MPC Quick Tip topics include: Requesting a Matthews Paint Intermix System, Preparing substrates for high quality UV printing, and Choosing a clear coat.
Matthews Paint publicly announced the new MPC Quick Tip series in April at the ISA Sign Expo in Las Vegas. Jan Scheske, Manager of Marketing and Customer Service at Matthews Paint, said that she was extremely pleased with the feedback from customers at the show. "Matthews Paint has always been known for providing excellent support. This is just one more tool we can use to serve the sign paint industry anytime online." To access the MPC Quick Tips, go to http://www.MatthewsPaint.com.
About Matthews Paint
For over 80 years, Matthews Paint has manufactured the highest quality of industrial coatings for their customers. As a major supplier to the architectural signage industry, Matthews Paint works with fabricators, designers and architects in coating technologies and color development including a library expanding to more than 80,000 colors. Matthews Paint continues to lead the industry with environmentally-minded products while maintaining high standards of performance.
###