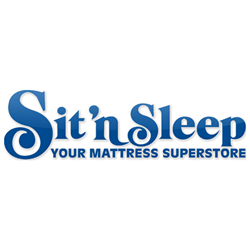 Choosing the perfect mattress from our huge selection of inventory can help you and other household members quickly improve their quality of sleep
GARDENA, Calif. (PRWEB) November 22, 2021
Mattress superstore Sit 'n Sleep is excited to announce their biggest deals of the year are available now through December 5th. Customers interested in saving money and upgrading their sleep quality can find the full collection of sale items online or at 36 convenient retail locations throughout Southern California.
During Sit 'n Sleep's Black Friday sale, customers can receive:
0% financing for 36 months
Up to $500 off Tempur-Pedic adjustable sets
More than 50% off select mattresses
Select items up to 60% off
A free gift with purchase on select Nectar mattresses
Popular discounted mattresses include the Sealy Manner Joy Plus Euro Pillow Top, Beautyrest Cocoa Beach Extra Firm, and Kingsdown Passions Capistrano. Any of these would pair perfectly with an Infinity Modern Pasadena Upholstered Bed, also on sale.
"Choosing the perfect mattress and other bedroom items from our huge selection of inventory can help you and other household members quickly improve their quality of sleep," reveals Drew Miller, VP of Marketing. "Our experienced sales representatives are available to help you find the best mattress for your body type, sleep style, and comfort preferences."
To explore Sit 'n Sleep's full range of products, please visit https://www.sitnsleep.com/.
About Sit 'n Sleep:
Sit 'n Sleep is the mattress superstore dedicated to delivering a good night's sleep to millions of Californians. Sit 'n Sleep is focused on helping people find the right mattress for their needs, body type and health—all from the largest selection of mattresses, at the best price, while receiving great service. With 36 superstore locations throughout Southern California, Sit 'n Sleep is an established Southern California brand, operating some of the largest and most successful mattress stores in the nation for over 35 years. For more information, visit http://www.sitnsleep.com.