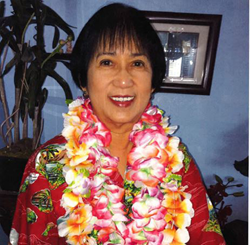 Maui Wowi gives my family an opportunity to be closer than ever.
Fairfield, California (PRWEB) June 10, 2015
Maui Wowi Hawaiian, the gourmet Hawaiian coffee and blended fruit smoothie franchise, is bringing back some memories for its newest franchisee in Fairfield, California. Wilhelmina Cenizal joins the company looking to build a strong business in the community and offer a taste of paradise to her customers.
"I was fascinated with the excellent product offering. I visited a store and saw a long line of customers and was motivated to look into it more," said Cenizal. "Everyone wants to go on vacation but not everyone can afford to go to Hawaii, so I might as well bring the vacation to them!"
Cenizal and her husband Carlos, who retired from the Navy, were once stationed at Pearl Harbor in Hawaii. It was on the islands that they had two sons and became fully immersed in the Hawaiian culture for seven years, as they focused on 'ohana, the Hawaiian word for family. Their love for Hawaii stuck with them as they moved to California where Cenizal enjoys a career as a microbiologist and now has four grandchildren.
"Maui Wowi gives my family an opportunity to be closer than ever," said Cenizal. "I have many friends, family, and coworkers who have expressed their support to help me fulfill my dreams, be my own boss, and follow in my mother's footsteps and this is a great business that is fun, friendly, and shows so much love for families."
She came from a family of successful business owners including her mother who made an impact on Cenizal and gave her the dream to become just like her someday. That day has come and Cenizal is ready to embody the entrepreneurial spirit that runs in her veins.
After completing a week long hands-on training program at the company headquarters in Denver, Cenizal will be on her way to building a piece of paradise. She will have the help of her husband and two sons, who will be involved full time in the business while Cenizal continues to work as a microbiologist.
About Maui Wowi Hawaiian
Since 1982, Maui Wowi Hawaiian has embraced the Hawaiian culture and has been serving paradise in a cup since the day it began, over 30 years ago. From event carts, mall kiosks and stand-alone retail locations, Maui Wowi Hawaiian offers premium, all-natural, gluten-free, fresh-fruit smoothies, as well as gourmet Hawaiian coffees and espresso beverages. The company maintains strong community involvement through fundraising efforts by its franchisees, in addition to Team Karma; an initiative that promotes corporate responsibility and giving back to the community. The brand has more than 450 operating units in seven countries and an online store, shop.mauiwowi.com. To learn more information about Maui Wowi Hawaiian's products, locations or flexible, low-cost franchising opportunities, visit http://www.mauiwowifranchise.com.
###