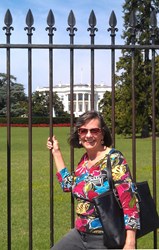 Franchising is an amazing opportunity for those looking to pursue an entrepreneurial path and we are thrilled they recognized one of our own.
Greenwood Village, Colo. (PRWEB) September 19, 2013
Maui Wowi Hawaiian, a gourmet Hawaiian coffee and smoothie retailer, announced that franchisee DuAnne Redus received the prestigious Franchisee of the Year Award from the International Franchise Association. Franchise owner-operators from 36 franchise systems were recognized on Monday during the IFA's 14th Annual Public Affairs Conference.
DuAnne Redus has been a thriving franchisee with Maui Wowi Hawaiian for eight years and is a prime example of how much success can come from franchise opportunities. After losing her husband suddenly and arriving home from a flight for a business trip just hours before the 9/11 attacks, she decided it was time to make a fresh start and pursue her entrepreneurial dreams. Now, she operates six mobile event carts and a brick-and-mortar store in Wimberley, TX. She also secured a lucrative contract with the Circuit of the Americas Race Track, home of the Formula 1 Grand Prix and the 2014 X-Games, to operate her six mobile carts at all events throughout the year.
The Franchisee of the Year Award is a major component of the IFA's Public Affairs Conference, which brings more than 400 franchise business leaders together in Washington, D.C. to relay key messages of franchising to lawmakers on Capitol Hill. During the two-day event, Sept. 16th- 17th, industry leaders met with over 200 congressional offices about important issues including tax certainty, healthcare reform, immigration and access to credit.
"The franchising community is full of hard working innovators," said IFA Chairman Steve Romaniello, managing director, Roark Capital Group. "The IFA is proud to recognize DuAnne Redus with the Franchisee of the Year Award for the contributions she makes every day to showcase how local business owners propel the economy in communities across the country."
"DuAnne is everything that we look for in a franchisee," said Mike Weinberger, CEO of Maui Wowi Hawaiian. "Franchising is an amazing opportunity for those looking to pursue an entrepreneurial path and we are thrilled they recognized one of our own."
For more information on the International Franchise Association please visit http://www.franchise.org. To learn more about Maui Wowi Hawaiian and their franchise opportunities, please visit http://www.mauiwowifranchise.com.
###
About Maui Wowi Hawaiian Coffees & Smoothies
Since 1982, Maui Wowi Hawaiian has embraced the Hawaiian culture and has been serving paradise in a cup since the day it began, 30 years ago. From event carts, mall kiosks and stand-alone retail locations Maui Wowi Hawaiian offers premium, all-natural, gluten-free, fresh-fruit smoothies, as well as gourmet Hawaiian coffees and espresso beverages. With over 450 operating units in seven countries, Maui Wowi Hawaiian has truly gone "Global" by adding an online store, shop.mauiwowi.com. Now customers from anywhere in the world can experience the prized-gourmet Hawaiian coffees and taste the 'Aloha Spirit' with a 'Click-of-a button!' To learn more information about Maui Wowi Hawaiian's, products, locations, or flexible, low cost franchising opportunities, visit http://www.mauiwowifranchise.com.
About the International Franchise Association
The International Franchise Association is the world's oldest and largest organization representing franchising worldwide. Celebrating 50 years of excellence, education and advocacy, IFA protects, enhances and promotes franchising through government relations, public relations and educational programs. Through its awareness campaign highlighting the theme, Franchising: Building Local Businesses, One Opportunity at a Time, IFA promotes the nearly 18 million jobs and $2.1 trillion of economic activity generated by franchising. IFA members include franchise companies in over 90 different business format categories, individual franchisees and companies that support the industry in marketing, law and business development.