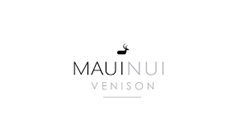 MAUI, Hawaii (PRWEB) August 06, 2020
Maui Nui's new video takes you on a journey into the Hawaiian islands, sharing their unique sourcing methods while inviting the viewer to experience their deep passion in working towards healthier ecosystems and food systems in Hawaiʻi.
The video not only does an amazing job telling the brand's story, it gives the viewer a true sense of place; it illustrates why these beautiful islands are so vulnerable and why they're worth protecting. It also gives a front-row seat to Maui Nui's innovative harvesting methods and how a deep respect for the animal drives every decision they make—not just for the good of the environment, but for their communities and food systems as well. That's where the idea for their Holo ʻAi program came from. Holo ʻAi means to speed food where it is needed, and thatʻs exactly what Maui Nui did during the COVID-19 pandemic by donating tens of thousands of meals to local organizations.
"It's lots of fun to watch our pantries come in and see venison in our freezer. We are incredibly grateful for Maui Nui." - Wes Perreira, Director, Kauai Food Bank
Watch the video here.

The most pervasive threats to Hawaiian species are non-native plants and animals.
What started as a group of nine Axis deer, introduced to the island of Maui in 1959, has now reached well over 40,000 animals.
Without active management, Mauiʻs deer population has the potential to balloon to a devastating size of over 200,000 animals within the next 20 years.
Wild Axis deer enjoy a natural diet of varied plants and grasses, making their meat incredibly nutritious with 36 g of protein per 6 oz serving and a complex array of essential vitamins and minerals.
17,000+ lbs of food (more than 45,000 meals) have been donated to date to local communities in need during COVID-19 as a part of Maui Nui's Holo ʻAi program.
Company Description
Maui Nui is an innovative company that started as a solution, rather than a business. By humanely sourcing Mauiʻs invasive Axis deer under stress-free conditions, Maui Nui is helping to simultaneously alleviate the impact deer have on Hawaiʻiʻs beautiful and vulnerable ecosystems while unlocking a delicious, high-quality food source during a time where nutritious, red meat is in high-demand.
During the COVID-19 pandemic, Maui Nui launched their Holo ʻAi program, which donated more than 45,000 meals to local communities who needed it most. Through the support of their amazing partners and loyal customers, the program will continue indefinitely.
By choosing to eat wild Axis deer in the form of Maui Nui's fresh venison—which recently became available for delivery nationwide—in addition to their cured snacks, customers are directly supporting their mission.