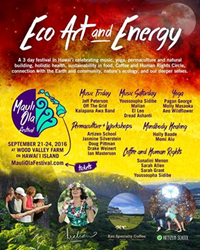 The festival's mission is to create a living culture based upon New Paradigm spiritual principles. These concepts are explored through the offerings and overall atmosphere of freedom and truth that will be created during those 4 days." -Malian Lahey
Pahala, Hawaii (PRWEB) August 30, 2016
Mauli Ola is a four-day gathering of musicians, coffee activists, and nature lovers coming together to experience music, discuss earth-centered politics, and learn nature skills. States festival founder Malian Lahey: "The festival's mission is to create a living culture based upon New Paradigm spiritual principles. New Paradigm, to me, is cooperation instead of competition, embracing and loving the yin side of ourselves in equal measure with the yang side, and starting our cultures with nature as a foundation - meaning that the terrain and climate determine what we eat, how we build, what we wear and that we respect the limitations of nature. These concepts are explored through the spiritual teachings, music, nourishing food, dancing, and the overall atmosphere of freedom and truth that will be created during those four days."
The festival's speakers and artists include Sunalini Menon, known as "India's First Lady of Coffee", reggae artist Mischka, and Grammy-nominated poet Youssoupha Sidibe.
Sunalini Menon has spent more than 40 years in coffee and has worked as a quality evaluator, trainer, developer of green coffee brands, judge in coffee competitions, writer of
coffee articles, and author of a coffee guide to new coffee entrepreneurs. Sunalini is
the "Quality Ombudsman" of the Speciality Coffee Association of India and has served as a judge in many domestic and international coffee competitions. A past winner of SCAA's Alfred Peet Passionate Cup Award, she is an independent director of Tata Coffee Limited, one of India's leading producers and exporters of coffee.
Mishka Frith was born in Bermuda, where he represented Bermuda in the windsurfing world championships, before concentrating primarily on his music career. Mischka is the face of O'Neill's eco-friendly apparel line, "ECO-Neill", which Mishka had a hand in designing. Five of his albums have topped the Billboard Reggae Albums chart, including The Journey from 2014.
Youssoupha Sidibe is from Touba, Senegal. His recording with Matisyahu on the album "Youth" garnered Youssoupha a Gold record and a Grammy Nomination. He is a Senegalese West African Kora–or African harp–player. "Throw out all your ideas of what a harpist is," says Lahey. "Youssoupha breaks out of traditional Kora styles to create an all-new style blending aspects of Reggae, and western music."
The Coffee and Human Rights Circle is a community discussion about how to improve human rights in our industry in the spirit of open dialogue and partnership. It is sponsored by Barista Magazine and Ka`u Specialty LLC, Sunalini Menon, Sarah Allen, Sarah Grant and Youssoupha Sidibe, among others. There will be a screening of "The Coffee Man" film, about Sasa Sestic's WBC journey and "The Land Of Eb," about Marshallese coffee pickers in Hawaii.
Event registration and evening dinner will occur on Wednesday September 21st, with the festivities kicking off the following day. The event will feature a variety of interactive areas, including music and dance, yoga, mindbody healing, permaculture & workshops, and coffee & human rights. The lineup includes music by Jeff Peterson, Liko Martin, Drew Daniels, Dread Ashanti, Off The Grid, and El Leo; yoga by Molly Masaoka, Pagan George, Jennifer Bliss and Aeo Wildflower; Mind body healing by Holly Baade and Momi Aiu, and permaculture by Artizen School, Jasmine Silverstein and Doug Pittman, to name a few.
There will also be film screenings of "Aya Awakenings," "DMT: The Spirit Molecule," and "Electronic Awakening." Directed and Produced by AC Johner, "Electronic Awakening" is an ethnographic film that investigates the spirituality of Electronic Dance Music culture and its ties to ancient shamanic rituals. The event will also feature book presentations on "ReInhabiting the Village"; Jamaica Stevens's multi-media book and online community hub project co-created by an alliance of visionary partners contributing knowledge to foster thriving projects, organizations, and communities. "They are all coming together in a heartfelt mandala offering of gratitude for this beautiful earth that we share," says Lahey.
Malian Lahey was raised in a spiritual, multi-faith home. A gardener and world traveler from a young age, Malian's ability to connect to the heart of so many different kinds of people has driven her to engage spirituality as a dynamic, kaleidoscopic and collaborative embodied experience. Her social impact enterprise, Ka`u Specialty, was founded to serve as a prototype of an institution through which wealthy and privileged people can share their skills and knowledge with people who need it most, while lowering their own
impact on the Earth's resources. She will also be performing her music and speaking on permaculture at the event.
According to USA Today's Travel Tips, September may be the ideal time to experience the event in its Hawaii setting, as it offers a mix of fair prices and warm weather temperatures.
Visit the website at http://www.mauliolafestival.com for updates, questions, suggestions or proposals.
Ticket purchase at: https://www.eventbrite.com/e/mauli-ola-festival-tickets-26890776035
About Mauli Ola Festival:
The Mauli Ola Festival brings together a global tribe to celebrate, learn and generate new conversations about coffee, human rights, and earth-friendly practices like permaculture and Leave No Trace. Conversations like these are powerful force multipliers that can create real shifts in how the world works. The first-ever Mauli Ola Festival launches September 21-24 at Wood Valley Farm on Hawai'i Island. The purpose of the Mauli Ola Festival is to create a living culture based upon New Paradigm spiritual principles.