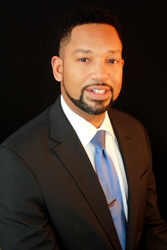 It's about maintaining good relationships with everyone who comes through that revolving door.
Chicago, IL (PRWEB) September 22, 2016
The urban chic Kinzie Hotel located in River North just steps away from the Mag Mile has appointed Maurese Nelson as Director of Sales & Marketing. The Chicago-centric boutique property, which reopened in 2014 following a complete re-concepting, boasts a timeless contemporary look and image that pays tribute to the great Chicago historical figure, John Kinzie. Nelson, a Chicago native, brings over 13 years of hospitality experience to the position, 10 of those in sales and marketing.
With the hotel's Chicago Starts Here philosophy in mind, Nelson seeks to make Kinzie the city's #1-rated hotel for small-to-medium sized room blocks and meetings. Nelson joins Kinzie Hotel following a 3-year run as Director of Sales at Hyatt Place Chicago South, where he earned a Hy-Achiever award among other accolades.
"I was attracted to Kinzie Hotel because it's an independent and I can instill my own selling style here," said Nelson, who was raised on the South Side. "The owner, Portfolio Hotels & Resorts, is investing in the right type of talent. I'm confident I can get people to buy into this product because I truly believe it's second to none. We offer a personal touch that separates us from competitors."
Nelson oversees a dedicated sales staff of six at Kinzie, a 215-room hotel that incorporates elements of the Chicago story through nearly every aspect of the environment, from the art on the walls to the custom packages to the names of the meeting rooms. Nelson attributes his success to being relationship-driven. "Beyond the amenities, it's relationships that are at the base of a hotel," he added. "I pride myself on building lasting partnerships with each customer, even if that means sending their business elsewhere if there is not a fit at my hotel. It's about maintaining good relationships with everyone who comes through that revolving door."
In his role, Nelson looks to streamline accommodations and emphasize all the reasons to plan group and leisure travel to Kinzie Hotel, whether it's a corporate group, wedding block or association looking to enjoy the benefits of Chicago's River North neighborhood. In addition to three distinct meeting spaces with state-of-the-art technology capabilities, Kinzie Hotel boasts the multi-functional Double Cross lounge for private parties. Every morning at Kinzie Hotel begins with a deluxe continental breakfast served on each guest floor, and every evening starts with a reception in Double Cross lounge featuring hors d'oeuvres and cocktails. For in-room or group dining, Kinzie Hotel offers a full gastropub menu designed and executed by their award-winning restaurant partner next door, Public House. The hotel is located within minutes from the Merchandise Mart, Navy Pier, and McCormick Place, offering the most convenient location of business hotels in downtown Chicago.
"We are excited to have Maurese as an integral part of our leadership team," said Kinzie Hotel General Manager Andrew Eck. "He's worked his way so far through most areas of the hotel business and has an inherent understanding for what it takes to exceed guest expectations."
Nelson's career in hospitality began at Hyatt as a bellman, where he learned firsthand how first impressions make the biggest impact. From there, he worked his way through housekeeping and the front office before transitioning into sales. Nelson advanced his career in sales at high profile hotels around Chicagoland, including the Hilton O'Hare, Sheraton Chicago/Westin River North, and Millennium Knickerbocker. At his previous position as opening Director of Sales of Hyatt Place Chicago South, Nelson achieved a 3-year projected sales goal within the first year of opening.
About Kinzie Hotel
Kinzie Hotel is a Chicago-centric boutique hotel in the vibrant River North district. Along with a contemporary, upscale atmosphere, the 215-room hotel offers daily continental breakfast served on each guest floor as well as a nightly manager's reception with light appetizers for each guest. Located at 20 N. Kinzie St (Chicago, IL 60654), the property opened in 2014 and is managed by Portfolio Hotels & Resorts. For more information or to book a next reservation, visit http://www.kinziehotel.com.
Media Contact:
Jody Grimaldi
Grimaldi Public Relations
630.470.0044
Jody(dot)Grimaldi(at)gmail.com