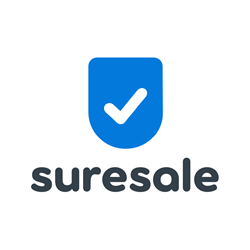 Unlike other industry reports, such as CARFAX, that only look at past history, SureSale tells a vehicle's whole story – past and present
TAMPA, Fla. and SANTA MONICA, Calif. (PRWEB) February 22, 2021
Maus Family Automotive today announced that it has partnered with award-winning SureSale to offer the industry's most comprehensive vehicle report on each of its pre-owned vehicles. SureSale offers consumers transparency and confidence in their used vehicle purchases through comprehensive vehicle histories, inspections, and assessments of current quality.
"Adding SureSale's quality seal to our MausCare will help our pre-owned customers make more informed decisions and increase their long-term satisfaction. We are thrilled that our customers will enjoy the peace of mind that SureSale provides," said David Maus, owner of Maus Family Automotive.
Maus Family Automotive operates four dealerships in the Tampa Bay area. Now, each Maus pre-owned vehicle will come with a free SureSale vehicle quality report, an analysis of thousands of data points about each vehicle – including a 170-point inspection, road test, and history check – that ensures an informed purchase process.
"Unlike other industry reports, such as CARFAX, that only look at past history, SureSale tells a vehicle's whole story – past and present. For example, while a vehicle may have a clean history report, its current condition or mechanical state may be far from clean. That is what makes the SureSale vehicle quality report a better, more comprehensive resource for consumers," continued Maus.
Maus Family Automotive dealerships have long had an interest in the pre-owned vehicle category and offer car shoppers a large inventory of pre-owned vehicles, which all come standard with MausCare, a benefits service that provides added features to enhance and protect each vehicle. Adding SureSale to MausCare is another step Maus Family Automotive is taking to ensure their customers have the best possible experience when purchasing a pre-owned vehicle.
"While a vehicle's history is important, what is even more important to consumers is a vehicle's current condition. Uniquely in our industry, SureSale offers both, helping to increase car buyer confidence," said SureSale Vice President of Sales Sean Peoples. "It is clear that David Maus, and Maus Family Automotive, put their community and customers first, and that helping their customers better understand the value and benefits of their vehicle purchase is a priority. The deep, credible data and transparency about each vehicle that SureSale provides is a perfect complement to this mission."
About Maus Family Automotive
Maus Family Automotive currently operates four dealerships in the Tampa Bay area: Maus Nissan of New Port Richey, Maus Nissan of Crystal River, Maus Nissan of North Tampa, and Maus Acura of North Tampa. Under the leadership of David Maus, a well-respected industry professional with over 25 years of experience, the dealerships insist on a culture of integrity and honesty and in putting the customer first. Maus Family Automotive is dedicated to giving back to the community, regularly supporting organizations that are making a positive impact on the local community, and offering preferred pricing to military, police, and firefighters. The dealerships are conveniently located throughout the greater Tampa Bay area, servicing the surrounding cities and beyond. For more information, visit MausFamilyAutomotive.com. For more information, contact EricEscobio@PowerPlayAdv.com.
About SureSale
SureSale offers used vehicle buyers peace of mind with the SureSale vehicle quality report, which stands alone in the industry for the depth of information it includes on the vehicle's past and present condition. Delivered through the industry's first, and only, vehicle quality SaaS platform, SureSale enables franchise and independent dealers to validate, and merchandise, the quality of their used vehicle inventory. SureSale, which won the 2020 Gold Stevie® Award for "Innovation of the Year," was founded to help the auto market meet the demand for inspected, high-quality pre-owned vehicles among the US' 40 million used car buyers. SureSale is based in Santa Monica, CA. Visit SureSale.com for more information.
SureSale Media Contact:
Angela Jacobson, mWEBB Communications, angela@mwebbcom.com, (714) 454-8776
Melanie Webber, mWEBB Communications, melanie@mwebbcom.com, (949) 307-1723