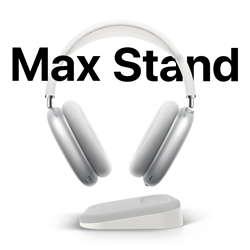 Max Stand is the ultimate charging stand for Apple's AirPods Max. Simply pick up your AirPods to start listening, and easily place them back on the Max Stand when done. On the stand they charge via a magnetic connector, and are displayed in style.
HEIDELBERG, Germany (PRWEB) January 06, 2021
floating pixels, a small design studio located in Heidelberg Germany, introduces Max Stand. It's the ultimate stand for Apple's new headphones, the AirPods Max. When done listening, simply put the AirPods Max on the stand with one hand. No fiddling with a case or plugging in cables. The headphones charge automatically via a magnetic connection when put on Max Stand. The Max Stand displays the headphones in style, as it comes in the material and colors to match the AirPods Max. It truly enhances the experience at home and makes using the headphones even more seamless and effortless.
"As gadget lovers, we got the new Apple AirPods Max right when they came out, and they are amazing headphones. But it was immediately clear that something was missing in the experience, so we created Max Stand. It's is the ultimate stand for AirPods Max! It allows you to simply pick up your headphones, and easily put them back with one hand when done listening. The stand displays your beautiful headphones, instead of hiding them in a case. And you never have to worry about charging again!"
It's the first stand specifically designed and fitted to Apple's new headphones, with charging taken into consideration. Its combination of style and functionality makes it a perfect fit for Apple's new high-end headphones.
Features:

Easily pick up the Apple AirPods Max with one hand and place them back just as easily. They simply glide onto the stand and stay put safely. No fiddling around with a case, just a small stand on the sideboard, desk, or nightstand.
AirPods Max charge automatically when put on the stand. Never worry about charging again. Simply insert a tiny connector into the AirPods Max lightning port once and leave it there.
Max Stand displays the beautiful headphones in style. Material and color match the personal AirPods, or mix and match to each ones liking. Max Stand has a minimalistic footprint, so it looks elegant without headphones, too.
When taking the headphones on the go, they fit into the case with the magnetic connector attached. Max Stand comes with a magnetic USB-C charging cable, so the headphones can be charged anywhere.
Max Stand is currently crowd-funded on Kickstarter. When the project is funded successfully, backers of the campaign will receive a Max Stand, starting from 69 EUR, shipping worldwide.
Sustainability:
Shipping partners are chosen based on their commitment to carbon-friendly or carbon-neutral shipping, based on vendors and availability for each country.
The PCB in Max Stand is lead-free (Pb) and mercury-free (Hg). The product is fully RoHs compliant, and will be recycled based on WEEE 2012/19/EU. The packaging will be biodegradable, and the main ingredient is recycled material. It will also use water-based ink, which drys and evaporates naturally. The paper used is sourced from certified wood from responsibly managed forests.