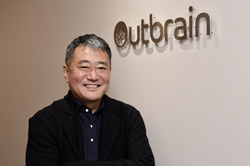 "Max brings a wealth of publishing and digital advertising experience, as well as a superb track record and reputation. He will be instrumental in the next phase of our growth in the region." said David Kostman, Co-CEO of Outbrain
TOKYO (PRWEB) October 20, 2020
Outbrain, the world's leading discovery and native advertising platform on the open web, announced today that Masahiro (Max) Ueno will join as Managing Director, Japan, and lead the company's continued growth in the region.
Ueno joins after leading Sojern's expansion across Asia-Pacific. Previously, Ueno was President and CEO of BuzzFeed Japan, a joint venture between BuzzFeed and Yahoo! Japan, following his role at Criteo, where it was said he grew Criteo's Asia-Pacific business from four employees to 250 across six regional offices representing 20 percent of Criteo's global revenue.
"We are extremely excited to have Max join Outbrain, especially at such a pivotal time both in our evolution and for the digital advertising ecosystem generally. Max brings a wealth of publishing and digital advertising experience, as well as a superb track record and reputation. He will be instrumental in the next phase of our growth in the region." said David Kostman, Co-CEO of Outbrain
Outbrain CRO, Eytan Galai, said: "I've known Max for many years and was always impressed by his experience and knowledge of our market. Max will lead the Outbrain Japan business during these exciting times of Outbrain's significant growth. His proven track record in providing strategic advice to brands on how to promote themselves through native advertising fits the direction we are heading . We are delighted to have him on board."
"I am extremely excited to join Outbrain Japan. Outbrain has always impressed me as a leader in technology and innovation. I believe that there are tremendous growth opportunities leveraging Outbrain's leadership, reputation and its partnership with premium publishers, advertisers and agencies globally and particularly in the Japanese market. I am also excited to be back in Japan after many years abroad and work with all of my friends in the publishing and advertising industry." said Max Ueno.
Ueno joins at an exciting time for Outbrain in Japan given the recent momentum of publisher partnership renewal with both Rakuten and AERAdot. and network growth. Ueno's initial focus at Outbrain will be to keep up the business' hyper growth while successfully launching plenty of innovations for both advertisers and publishers.
About Outbrain
Outbrain is the world's leading discovery and native advertising feed for the open web. A third of the world's Internet-connected population explore and discover information through our feed technology, which is trusted by emerging to established brands and integrated into thousands of media companies' tech stacks to manage and monetize their publishing operations. Outbrain operates in 55 countries and is headquartered in New York City with offices in 18 cities worldwide. Learn more at http://www.outbrain.com or follow us on Twitter, LinkedIn, and Instagram.