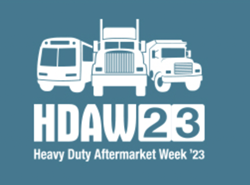 GRAPEVINE, Texas (PRWEB) January 13, 2023
Heavy-Duty Aftermarket Week 2023 (HDAW '23) is one of the most trusted events in the automotive aftermarket parts industry. This year's event will be hosted at the Gaylord Texan Resort & Convention Center from Monday, January 16th through Thursday, January 19th, 2023.
HDAW '23 is a highly anticipated event that brings together professionals from all over the country. The highlight of the event, the HDAW '23 Product Expo, will allow attendees to explore the latest technology and applications that are improving industry efforts. There will also be numerous opportunities to connect with aftermarket parts distributors and suppliers throughout the four-day event.
Numerous networking events are also scheduled to take place, including the opportunity to attend one-on-one business meetings. Key speakers are set to discuss the latest trends that are shaping the aftermarket parts industry.
Maxiforce representatives, Paul Kelly and Chris Harper, will be onsite to discuss the latest aftermarket diesel parts solution. Maxiforce manufactures and distributes quality diesel replacement parts from the biggest brands. Representatives encourage attendees to stop by Booth #1533 and speak with a member of their team.
Open registration HDAW '23 will take place in the Longhorn Marble Foyer on Monday, January 16th starting at 7 am. Space is limited and prospective attendees are encouraged to pre-register on the event website.
More About Maxiforce
Maxiforce is an aftermarket manufacturer and distributor of diesel engine parts. Maxiforce has gathered a loyal customer base for their high-quality and reputable customer service.
Maxiforce is devoted to manufacturing and distributing diesel engine parts for the following brands:
John Deere®
Perkins®
Caterpillar
Yanmar®
Cummins®
Kubota®
Mitsubishi®
Shibaura®
Komatsu®
IH/Navistar®
Maxiforce is committed to providing quality aftermarket parts, immediate shipping, and technical support. Reach out to Maxiforce directly for more information about our products.