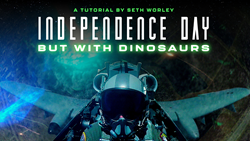 FRIEDRICHSDORF, Germany (PRWEB) July 09, 2020
Today, Maxon and Red Giant released a tutorial on how to create an alien invasion during the 4th of July. Inspired by the 1996 hit movie Independence Day, Seth Worley took on the challenge of replicating the invasion, sans the octopus-like aliens from the film, opting instead for flying dinosaurs. Seth used Cinema 4D to create the short film's supervillains and tools from Red Giant Complete to incorporate Independence Day-style visual effects. In the YouTube tutorial out now, Seth showcases how to work with lens distortion, camera tracking, 3D animation, color correction, compositing and much more to create the larger-than-life effects.
WATCH NOW: Independence Day Tutorial
Seth takes viewers through the process of undistorting footage to re-distorting elements featuring everything from missiles shot by a pilot to a massive volcano eruption, all while a flock of winged dinosaurs fly around. Utilizing various Red Giant tools like Supercomp, Trapcode Tao and Optical Glow, the 40-minute step-by-step tutorial ends with color grading with Magic Bullet Colorista IV as the last step in finalizing the epic alien dinosaur invasion.
The full set of tools used includes:

Free Trial
Want to follow along? Download a free trial of both Red Giant Complete and Maxon Cinema 4D to have access to fully functioning versions of all the tools Seth uses in his Independence Day tutorial!
Request a Maxon or Red Giant Media Review Kit
Members of the media are invited to review any tools or product suites from Maxon or Red Giant. For more information or to request a product review kit, please contact Alexis Isaacs at alexis@zazilmediagroup.com.
About Maxon
Maxon is a developer of professional 3D modeling, painting, animation and rendering solutions. In January, Maxon and Red Giant closed a merger of the two companies. The combined company's award-winning Cinema 4D, Redshift 3D and Red Giant products have been used extensively to help create and render everything from stunning visual effects in top feature films, TV shows and commercials, cutting-edge game cinematics for AAA games, as well as for medical illustration, architectural and industrial design applications. Maxon products are available directly from the website and its worldwide distribution network. Maxon is part of the Nemetschek Group.
Maxon Web Resources
Additional information on Maxon can be obtained as follows:

All trademarks contained herein are the property of their respective owners.
About Red Giant
Red Giant is a software company made up of talented artists and technologists who collaborate to create unique tools for filmmakers, editors, VFX artists, and motion designers. Our company culture is focused on finding balance between work and life – we call it "the double bottom line" – this philosophy helps us ignore complexity in favor of building simple tools that yield giant results. Over the last decade, our products (like Magic Bullet, Trapcode, Universe and PluralEyes) have become the standard in film and broadcast post-production. With over 250,000 users, it's nearly impossible to watch 20 minutes of TV without seeing our software in use. From our experiences as artists and filmmakers, we aspire to not only provide tools for artists, but inspiration as well. Watch our films, learn from over 200 free tutorials, or try our software at http://www.redgiant.com.