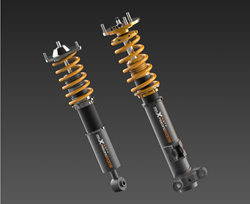 Top engineers joined MaXpeedingRods' Research and Development team.
HONG KONG (PRWEB) March 26, 2021
MaXpeedingRods, a performance parts and aftermarket replacements manufacturer and supplier, announced that they will release track version coilovers with professional-grade adjustability technology in 2021.
MaXpeedingRods is a company that produces a large array of high quality performance auto parts and aftermarket replacements. The staple of MaXpeedingRods is their suspension, turbos, and internal parts. Their products are created for hundreds of applications as well; from Honda's to BMW's and everything in-between. MaXpeedingRods does not just build products for a certain type of racing either. For example, MaXpeedingRods has turbochargers for mild street builds that want to make 400 to 600 horsepower and for those who want a larger direct factory replacement turbocharger. They also have turbos for the wild builds that want an 800+ horsepower capable turbo. And the best part, MaXpeedingRods has multiple turbos to do that job. Along with their engine parts turbochargers and rods they have an extensive line of suspension parts. Suspension is one of the most important components in a car and this is why MaXpeedingRods has, and will continue to, put a large amount of money into R&D of coilovers.
MaXpeedingRods new track oriented coilovers have been redesigned and overhauled to compete with and outperform all other competitors. They have their current 24-way adjustable coilovers and are adding new adjustability technology to them. They have manipulated the compression, rebound, and valving to optimize performance for every application. Prior they were using cast and stamped iron for many components in the coilovers. But now MaXpeedingRods has improved its design to use stainless steel instead of iron. This was done to increase the strength and longevity of the coilovers while giving them a better finish. For information on coilovers technology of MaXpeedingRods, visit maxpeedingrods.com.
MaXpeedingRods wants to support all enthusiasts. So they are developing and implementing three different series of components. MaXpeedingRods is producing a Home version for the casual enthusiast who wants to make their car look their best while performing great. The next level is MaXpeedingRods's Street version. This is for those who want to really use their car's performance while still retaining comfort and functionality. The Street series coilovers will be aimed for the enthusiast who wants to look good, out corner the competitors, and drive to work the next day in comfort. Lastly, the Track version. The Track version has been developed specifically for the enthusiasts who want peak performance. MaXpeedingRods's Track version coilovers will have 24 way adjustability, specifically designed valving, improved heat dissipation methods, and high intensity internal components. These Track version coilovers will hold up to the harshest of roads and the highest speeds while encountering the greatest lateral G-forces. These are robust, proven coilovers built to take the abuse from professional racers and drifters. For some applications they will include electronic controls as well. This gives versatility and creates a whole way of managing your car on the fly.
Behind the scenes at MaXpeedingRods, they have hired some of the top engineers in the world to join their Research and Development team. They are sparing no expense to create the best products on the market. MaXpeedingRods is happy to see that their efforts are paying off in the products they are bringing to market. For example, some of their coilovers had a 24 way adjustment but now they have redesigned and recalibrated the adjustability to be even better than before. Along with that they are bringing more adjustable technology to the market to better tune shocks to any driver's specific needs. Something MaXpeedingRods is excited to announce is their new focus on development of electronically controlled coilovers. This will bring a new level of control to the end user and will open up an entire new market. They have also brought on an industrial design team to work on the aesthetics of their products while also focusing on the practicality.
With the extensive increase in product quality and performance, MaXpeedingRods ramped up and continuous improvement of its supply chain to ensure the quickest delivery times possible. MaXpeedingRods supplies to many markets across the world. They supply to the United States, UK, Europe, Australia, and Asia. Because of their large breadth of distribution, they are focusing on getting products out across the world as quickly as possible. Along with their supply chain improvements, MaXpeedingRods has expanded its manufacturing facility as well as bringing in better machinery. Their manufacturing facility is now larger than 540,000 square feet. MaXpeedingRods is bringing in better and high tech test benches to improve their quality control. They have also increased their production capacity. They have distributors all over the world that they are collecting honest first person feedback from so that they can make the changes they need to better their products.
At MaXpeedingRods, they strive to build quality parts that are on par or better than the industry leaders. But what sets them apart is that they strive for the quality and performance of the large name brands while pricing their products at a consumer focused price. Often this is half the cost of the competitors. MaXpeedingRods is increasing its R&D efforts into other products like their turbochargers, H-beam connecting rods, and billet steel crankshafts. Many new high quality products are to come in the future.
MaXpeedingRods is releasing its new line of race oriented suspension components in June of this year. These are unlike any of their previously released suspension components. So much R&D has gone into these products and they will be releasing a limited free trial. If you are interested in being a part of this limited run of race specific suspension components, get in touch with MaXpeedingRods about this opportunity with the contact information provided below or follow on Facebook, Instagram, and Blog.
About MaXpeedingRods
MaXpeedingRods is a fast-growing car parts manufacturer and supplier. Since 2006, MaXpeedingRods has been redefining high-performance auto parts including cranks, coilovers, connecting rods, turbochargers and a variety of other parts. It's this commitment to performance that has allowed MaXpeedingRods to reach over 4 million customers throughout 170 countries and regions across North America, Europe, Oceania, and Asia.
Website: https://www.maxpeedingrods.com/
Email: coop@maxpeedingrods.com