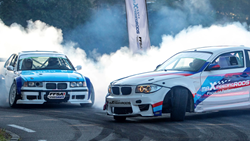 Together with France's known-well event and elite racers, MaXpeedingRods aims to get its foot in turbocharging the racing world.
HONG KONG (PRWEB) May 10, 2021
The French Drift Championship will be kicking off a new season on 18 June. As a new main sponsor, MaXpeedingRods will be supporting all 6 rounds of the event in the 2021 season. Established in 2006, MaXpeedingRods manufactures and supplies auto parts for over 4 million car enthusiasts around the world.
In the drift field, the French Drift Championship is among the racing events recognized by the French Motor Sport Federation, providing a platform to showcase racing lover's drifting talent from around the world. This partnership is bringing together a growing car parts company with one of the popular racing events in Europe.
Manufacturing and supplying performance engine parts rods, cranks, turbos for car drivers in the last decades, MaXpeedingRods has accumulated rich experience in track racing and street racing. This partnership will allow the French Drift Championship's drivers access to MaXpeedingRods' extensive catalog of high-end racing parts, channeling quality craftsmanship and precision design into improved racing performance.
Meanwhile, MaXpeedingRods launched a new Racers Sponsorship Program to help amateur racers and aspiring racers that possess the drive and the dreams. If you're looking to take your racing career and dreams to the next level, then the MaXpeedingRods Racer Sponsorship Program is your gateway to the drift.
About MaXpeedingRods
MaXpeedingRods is a fast-growing car parts manufacturer and supplier. Since 2006, MaXpeedingRods has been redefining high-performance auto parts including cranks, coilovers, connecting rods, turbochargers and a variety of other parts. It's this commitment to performance that has allowed MaXpeedingRods to reach over 4 million customers throughout 170 countries and regions across North America, Europe, Oceania, and Asia.
Website: https://www.maxpeedingrods.com/
Email: coop@maxpeedingrods.com