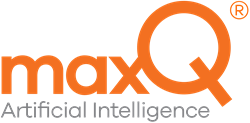 In collaboration with FujiFilm and the wonderful staff at Capital Health Hospital, our teams have successfully integrated Accipio into Fujifilm's Synapse PACS, achieving a seamless clinical workflow enhanced with deep clinical AI."
TEL AVIV, Israel (PRWEB) December 03, 2020
MaxQ AI, the industry-leading healthcare technology company that delivers comprehensive clinical workflow with improved patient triage and diagnosis, announced today a multi-year partnership with FUJIFILM Medical Systems U.S.A., Inc., a leading provider of enterprise imaging solutions, to commercialize the ACCIPIO® Clinical Platform.
The Accipio Clinical Platform generates multiple insights into a patient's medical imaging study that may provide a faster and clinically accurate diagnosis. The platform is comprised of Accipio Ix (Intracranial Hemorrhage (ICH) triage and notification, Accipio Ax (Slice-Level Annotation), and Accipio Dxg (Triage for ICH Presence or Absence)**. MaxQ is the only AI platform company offering advanced AI applications and AI platform solutions, such as MaxQ Xpress, as a seamless, integrated offering, secured through ISO 27001 and ISO 27799 cybersecurity standards. When launched through Fujifilm's Synapse PACS platform, which ranks among the fastest and most secure enterprise imaging solutions in the industry—the Accipio and Synapse seamless solution deliver deep clinical and actionable insights, enabling clinicians to make faster assessments of patients.
"At MaxQ, our goal is to equip physicians with AI-based solutions that enable them to deliver faster, more confident patient care, while reducing costs, and physician workload," says Michael Rosenberg, Chief Executive Officer of MaxQ. "We've worked extensively with Fujifilm over the last year on our deployment at Capital Health Hospitals in New Jersey. In collaboration with Fujifilm and the wonderful staff at Capital Health Hospital, our teams have successfully integrated Accipio into Fujifilm's Synapse PACS, achieving a seamless clinical workflow enhanced with deep clinical AI."
About Fujifilm
FUJIFILM Medical Systems U.S.A., Inc. is a leading provider of innovative diagnostic imaging products and medical informatics solutions that meet and exceed the evolving needs of healthcare facilities today and into the future. It's ever expanding medical imaging solutions span digital radiography (DR), detectors, portables and suites, mammography systems with digital breast tomosynthesis, computed tomography solutions for oncology and radiology applications, technologically advanced flexible and surgical endoscopy and fluoroscopy solutions. Fujifilm enables interoperability through its Systems Integration offering as well as its comprehensive, AI-supported Synapse® Enterprise Imaging portfolio, which includes the TeraMedica Division of Fujifilm. Fujifilm's in vitro diagnostics (IVD) portfolio includes clinical lab reagents, and biomarkers to assess the risk for the development of hepatocellular carcinoma in patients with chronic liver disease. FUJIFILM Medical Systems U.S.A., Inc. is headquartered in Lexington, Massachusetts. For more information please visit http://www.fujifilmhealthcare.com.
FUJIFILM Holdings Corporation, Tokyo, Japan, brings cutting edge solutions to a broad range of global industries by leveraging its depth of knowledge and fundamental technologies developed in its relentless pursuit of innovation. Its proprietary core technologies contribute to the various fields including healthcare, graphic systems, highly functional materials, optical devices, digital imaging and document products. These products and services are based on its extensive portfolio of chemical, mechanical, optical, electronic and imaging technologies. For the year ended March 31, 2020, the company had global revenues of $22.1 billion, at an exchange rate of 109 yen to the dollar. Fujifilm is committed to responsible environmental stewardship and good corporate citizenship. For more information, please visit: http://www.fujifilmholdings.com.
About MaxQ AI, Ltd.
MaxQ AI is transforming healthcare by empowering physicians to provide 'smarter care' with enhanced clinical workflow, improved patient triage and artificial intelligence (AI) clinical insights. Based in Tel Aviv, Israel and Andover, MA our team of deep learning and machine vision experts develop innovative software that uses AI to interpret medical images and surrounding patient data. Working with world-class clinical and industry partners, our software enables physicians to make faster, more accurate decisions when diagnosing intracranial hemorrhage, stroke, brain trauma, and other serious conditions. To learn more, visit http://www.maxq.ai or follow us on LinkedIn.
Press Contacts:
For MaxQ AI:
marketing@maxq.ai
For Fujifilm:
Danielle Brown, Danielle.brown@fujifilm.com
**MaxQ Device Regulatory Status Available at http://www.maxq.ai