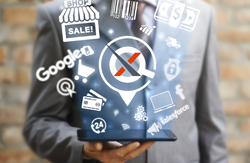 Maxtreme is a conduit for business organizations who want to tap into the power of the internet. We believe marketing technology should dance to the beat of business operations. We help business owners do just that.
(PRWEB) August 03, 2017
Using "cybernetics," Maxtreme leads the way to the digital revolution!
Digital marketing can be overwhelming. In a world where it seems every business has a website, it's easy to not know where to begin. SEO, PPC, and analytics, can cause many people to give up—to the detriment of their businesses.
Digital marketing expert Darwin Hall saw a need to shrink down the vast landscape into something people find simple, useful, and profitable. He also saw opportunity to help business navigate the digital realm. It was then that he established Maxtreme, a full-service digital transformation consulting firm.
Maxtreme partners with organizations of all sizes, from elite corporations to brick-and-mortar operations who are looking to compete in the digital age. Using cybernetics, Hall and his team work to create custom solutions to improve their clients' performance—be they a start-up, independent business, or Fortune 500 company—and partner with them to ensure success.
"Maxtreme is a conduit for business organizations who want to tap into the power of the internet," Hall says."We believe marketing technology should dance to the beat of business operations. We help business owners do just that."
Hall's team understands digital marketing from click to conversion. Maxtreme boasts coveted certifications, including Google Premier Partner, Bing Ads Professional, DMA Certified Marketing Professional, Marketo Certified Expert, and Eloqua Certified Expert. With this expertise, the team provides strategies that empower clients to steer how the internet is being used—and grow their businesses.
"I've had the opportunity to work with some brilliant minds, true mavericks, in the internet business," Hall says, detailing his extensive experience in all aspects of technology, from designing websites to digital marketing. "It helped me see things from different vantage points, so I could provide different products and services." With Maxtreme, he shares that expertise to help clients succeed.
Limitations of the "one-to-many" model
Things change rapidly in the digital world, something Hall knows well.
"There has been a distinct paradigm shift in the business model," he explains. In the early days, it was much easier to get seen by potential customers, and it was easy to get leads.
"Essentially, if you provided a useful product or service and an optimized conversion path, you would earn conversions. It was relatively easy to generate conversions and revenue."
However, as search engine algorithms because more complex, the digital landscape became more competitive. Suddenly search engine rankings came into play. It wasn't as easy to stand out from the competition. It was at that point that digital agencies began booming.
"These agencies would help you measure and optimize your business process. They would offer you a product to help you track and measure behavior. They would set it up for click to conversion and offer a monthly report," Hall says.
The problem, he notes, is the one-to-many model. Agencies may provide a service or software that is high-tech, but it is often not tailored to an organization's specific needs. Thus, business owners are often left with tools that don't necessarily benefit their business. They may not understand how to best use the software, or the data, or know what next steps to take.
"Many business owners say, 'We have this great software. But now what?'" Hall explains. "Just because you have the tools doesn't mean it's the right tool for your business."
Maxtreme differs from the competition in that they believe there is no "one-size-fits-all" tool or service, because each organization has different needs. They believe it's important to understand and see how each business is unique.
"Instead of trying to fit one model to many, we look at our clients' business needs so we can offer them specific solutions," he notes. This enables the team to create customized plans, ensuring organizations have the right tools and a plan for how to use the data.
Cybernetic approach to business
Maxtreme's holistic approach to digital marketing also sets them apart from the competition "We understand the technical aspects of conversion funneling from click to conversion". This gives us a unique perspective that benefits our clients. Instead of trying to fit one model to many, we look at our clients' business needs so we can offer the specific solutions the need."
The experts at Maxtreme look through the veil of digital and into the data, to see where opportunities lie. In doing so, they take a truly innovative "cybernetic" approach to digital marketing.
First, the team performs an extensive review to determine an organization's digital strengths, as well as their challenges. From there, they detail and share opportunities for growth.
Hall likens it to a patient visiting a doctor. "The doctor may not see anything wrong, so he refers you to a specialist. The specialist may order an MRI or more specific testing. With that, they can create a plan tailored to the person's unique needs. That's what Maxtreme does."
Even those with healthy businesses can benefit from a cybernetic approach. Think seasoned athletes who are looking to increase their already stellar performance. They may speak with a nutritionist or a trainer to elevate their performance to the next level. Similarly, Maxtreme can suggest refinements to further boost your organization's performance.
"The question people should ask is 'What do we need?' We're looking for positive change," Hall notes. "It could be as simple as automating something, or knowing what to do with the data they have."
Partnering with clients
Maxtreme prides itself on partnering with clients, educating them so they understand how their digital technology is performing and helping them reach their goals.
"An educated partner is the best partner," Hall notes, although Maxtreme is happy to do the heavy lifting, improving their digital marketing and ensuring clients get the data they need to make decisions. This way, clients can focus on what they do best: running their businesses.
"The more back-end things we can take care of, that means more time our clients can focus on other aspects of their business: selling, customer service, producing a fantastic product or service."
Simplifying digital marketing
Digital marketing changes daily. With well-known search engines and social media platforms like Google and Facebook change their algorithms weekly, it can be difficult to get a solid footing in the digital marketing realm. But Maxtreme can help companies get noticed.
"We come in with a certain goal: to be that thing you need to move you forward," Hall says.
Through an innovative, tailored, "cybernetic" approach, Maxtreme deftly cuts through the digital clutter, creating custom solutions to improve client performance. Simply put, they make digital marketing effortless, useful, and profitable, for any business.
"Our team has worked with organizations of all sizes but we offer the same commitment to each and every one," Hall notes. "We help them dance to the beat of their own unique marketing."
For more information on Maxtreme visit MaxtremeMarketing.com.