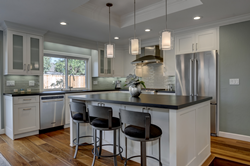 To improve quality on a customer-service we have created a unique approach we call "Smart Design and Remodeling." This offers advanced preparation to customers to save them time and money.
SAN JOSE, Calif. (PRWEB) December 10, 2020
May Construction, a residential remodeling contractor serving Santa Clara County, has recently developed a new customer service model that has met the needs of homeowners who are looking to remodel and demand high quality and exceptional value. These homeowners need a range of options to make the best design and building decisions to produce exceptional style and quality, and save on time and money.
"Our new model has really taking our customer service approach up a notch," said Greg May, who co-owns May Construction Inc. with his wife, Debbie. "I think most residential contractors in the Santa Clara County would agree that COVID-19 has been an unexpected jolt, and from March through June business was down considerably for everyone."
But the Mays said they couldn't simply sit around and expect things to change by themselves -- so they did something about it.
"Debbie and I thought long and hard about how we could get back to our normal level of work," Greg explained, "and most importantly, provide a new higher level of service that truly took into consideration the needs of our clients."
Fundamentally, they focused on the core aspects of how May Construction did business, such as how bids were created and how homeowners could modify those bids to meet their specific needs.
Greg said that making it work for clients with so much external uncertainty was done by creating a unique approach. "We call this three-pronged approach Smart Design and Remodeling: creating a two-way street of communication; advanced preparation; and establishing a cooperative bidding process so everyone understands the where, why, and how money is being spent."
"I must say it has been quite remarkable," Greg went on, as he reflected on the twelve-plus jobs that have emerged since they switch their emphasis on how to deliver a customized remodeling experience for homeowners. "Let's just say, were going to be busy for a while and homeowner's satisfaction will be a new high based on modifications we made."
Even before the COVID-19 pandemic May Construction focused on putting customers' needs first. They did this by encouraging homeowners to think about their remodel as being divided into phases.
"The key for our customer getting exactly what they wanted," Debbie said, "is for them to understand that there are four remodeling steps, and it starts with planning, which involves scope, timeline and budget, followed by the design process: how will your space function, and if it's a new space, how will it harmonize with existing parts of your home." She added that Phase 3 involves the contract itself, your expectations and communication; and, lastly, construction: permitting, scheduling and clear communication throughout the building process.
"Knowing what you want and creating a clear vision is the fun part of a remodel," Debbie explained. "It helps to have visual examples of what you like to facilitate a cohesive design that you can share with your contractor."
"I must emphasize that the overall quality of a design and build with our approach is not compromised, and you can save 15-20% on some projects with minor changes to the scope of work and the products you choose," Greg added. "Maybe that's the reason we have seen such a surge in business. Whatever the reasons are, we are just happy that we can serve customers effectively while simultaneously keeping our business going strong, especially during these unpredictable times."
About May Construction, Inc.
May Construction, Inc. is a residential remodeling contractor, specializing in design/build, whole-house remodels, new additions and kitchen and bathroom renovations throughout the Santa Clara Valley. For more information, please contact May Construction at (408) 294-6763.