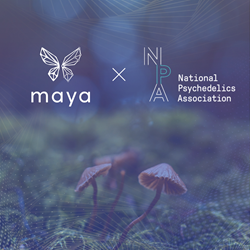 We're proud to partner with NPA on this mission, and excited to begin work together with their team and with the communities of Oregon.
PORTLAND, Ore. (PRWEB) January 12, 2022
Today, Maya (Maya PBC) and the National Psychedelics Association (NPA) announced their partnership in support of the implementation of Oregon's Measure 109, the first state-approved policy to allow the regulated use of psilocybin products in a facilitated setting. Through the partnership, Maya's Real World Evidence Platform will be one of the core services offered to the association's members when it officially launches in Q4 of 2022.
According to a recent report released by the Psychedelic Science Funders Collaborative, "Oregon's psilocybin therapy program provides a high-quality model for psychedelic healing in a non-prescription context that could be replicated in other states." With Oregon serving as a testing ground for legal psychedelic services, and FDA clinical trials of psilocybin-assisted therapy still several years from completion, policymakers and practitioners urgently need reliable insights into the safety, efficacy, and accessibility to implement and optimize non-prescription models of psychedelic-assisted services.
As Oregon prepares to roll out the nation's first legal psilocybin-assisted services program, there is a recognized need for the community to track adverse events and measure efficacy. This level of understanding can inform best practices, improve outcomes, and contribute to sensible policy-making both in Oregon and beyond. Through this collaboration, the NPA and Maya will offer both the education and the technology infrastructure needed to make this possible, ensuring accessibility and safety to all communities.
"We see our role as being ethical guardians of information in this emerging field of healing," says Maya CEO David Champion. "As a technology platform, Maya is nonpartisan to the specific styles and methodologies any individual or group may choose. Our desire is to give practitioners the tools to enhance their capacity as healers, and demonstrate safety, effectiveness, and legitimacy in a rapidly expanding field. We're proud to partner with NPA on this mission, and excited to begin work together with their team and with the communities of Oregon."
The Maya platform empowers psychedelic researchers, providers, and participants to collectively chart psychedelic best practices. The product suite includes a purpose-built Companion App for individuals, a Measurement Based Care Platform for providers, and a Real World Data Platform for both academic and commercial researchers. By bridging the gap between psychedelic research and real-world practices, Maya activates true decentralized collaboration across the community.
The National Psychedelics Association is focused on developing products and services to ensure practitioners and providers of non-prescription, psychedelic-assisted therapies are representative, accessible, and affordable while remaining compliant and safe. Initially launching in Oregon, NPA's membership will be a focused community of licensed psilocybin practitioners and service centers to whom it will offer a suite of services including professional insurance, banking/funding options, as well as education and tools associated with Maya's Real World Evidence Platform.
"NPA's mission is to ensure all Americans get the support they need to safely access psychedelic-assisted care. We don't believe safety and access are opposing polarities that must be constantly balanced. Through the right mix of regulation, technology, and data, both are equally achievable," says NPA CEO Britt Rollins. "Together with Maya, we will be able to first and foremost optimize treatment for communities left behind in the prescription-based model. Over time, that evidence will allow us to assure not only the need for a new model of care, but a truly radical new model."
The Maya platform will supply NPA members with real-world insights to enhance safety, optimize outcomes, inform future research, and advance policy endeavors to ensure equitable access. The organizations will be co-developing additional assessment and matching services to meet the needs of state-based, non-prescription models of psychedelic-assisted therapy.
ABOUT THE NATIONAL PSYCHEDELICS ASSOCIATION
The National Psychedelics Association is a non-profit advancing equitable access to safe psychedelic-assisted therapies through awareness, advocacy, and education. The membership-based organization, launching in late 2022, will focus its efforts to ensure non-prescription models of psychedelic care are representative, affordable, and accessible.
ABOUT MAYA
Maya PBC, a public benefit corporation, empowers providers, participants, and researchers to chart real world evidence for safe and effective psychedelic practices. Its mission is to provide the technology and insight needed to optimize outcomes, enhance safety, reduce cost of care, increase equity, and inform regulation. Maya envisions a future where everyone has the opportunity to benefit from safe and accessible psychedelic medicine.