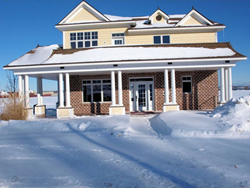 Milwaukee, WI (PRWEB) May 07, 2014
At the end of this month, real estate marketing firm Micoley.com will offer buyers close to 100 opportunities to invest in properties that range from turn-key businesses such as hotels, gas stations, restaurants and bars, to residential, multi-family and vacant land properties. In total, there are 115 available properties, spread across the states of Arizona, Illinois, Indiana, Iowa, Michigan, Minnesota, Mississippi, Missouri, Ohio, and Wisconsin. Although the auction will not take place until May 31, over 40 over the 115 properties have already received pending or accepted offers, so it would behoove interested partakers to act quickly to beat the spring rush -- negotiating with the seller prior to the auction day will avoid competition with other buyers on the 31st.
"Buyers are becoming more accustomed to the benefits of purchasing real estate through online auctions," stated Wade T. Micoley, President & CEO of Micoley.com. "Even though foreclosure rates are down in some areas, sellers are still very highly motivated, which provides a definite advantage for buyers. However, doing one's due diligence is always highly recommended," also stated Micoley.
There are a couple of properties in Wisconsin that are drawing particular attention. The first is a custom-built waterfront home located in Door County at 340 N Joliet Ave in Sturgeon Bay (zip: 54235) -- with more than 70 feet of water frontage on the Bay of Green Bay. The two-story brick-built house is 2,736 square feet with two bedrooms, two full bathrooms, two half bathrooms, and one full basement, with hardwood flooring throughout and a Concord elevator. The master suite contains a whirlpool tub, walk-in closet, and private porch, as well. This property is listed at $599,900 with an opening bid of $500,000 if no offer is received before the May 31 auction.
The second Wisconsin property is the Cozy Corner Tavern in downtown Black River Falls at 43 Main St (zip: 54615) -- an excellent turnkey opportunity. With an active bar and restaurant, this two-story, 5,280-square foot property has a strong history -- it was constructed in 1930 -- and the Cozy Corner Tavern has made a great name for itself in Jackson County. The property is a great opportunity for added income with five rental units also included in this bulk deal. The property is listed at $365,000 with an opening bid of $285,000.
Also featured in the upcoming auction is a commercial investment opportunity at 395 S Locust Street in Manteno, Illinois (zip: 60950). This is a 13,761-square foot, multi-tenant facility professionally updated in 2004 with a new interior and façade, allowing for 10,761 square feet of the building to be used for showroom, retail, mezzanine, or office space -- with an additional 3,000 square feet of warehouse space. The property is listed at $875,000 with an opening bid of $575,000.
Each one of these properties has motivated, high-energy sellers entertaining early bids, meaning that although all three go up for auction on May 31, they may very well sell before that date arrives. Potential buyers would be well advised to begin researching as soon as possible if these properties pique their interest. Indeed, all three properties, along with the full spread of offerings -- which also include residential homes and vacant land -- can be viewed by visiting micoley.com.
Interested parties should visit micoley.com to find photos and details about the property, or by visiting in person and performing an inspection on site, which is highly recommended. 1-866-371-3619 is Micoley.com's information line. Additionally, Micoley.com features a live chat service through which questions can be answered.
About Micoley.com:
Green Bay, Wisconsin-based Micoley.com is a real estate marketing firm specializing in project focused auctions of bank-owned properties throughout the United States. The Micoley.com approach to real estate marketing tailors each auction plan to the client's individual needs. The site is constantly being updated for the benefit of buyers, as large scale auction events are held monthly, and new properties are added daily. IL Broker Firm: Micoley.com LLC #481.011994. IL Broker: Robert Stone #471.015845. WI Auctioneer Firm: Micoley.com LLC #432-53. Registered Wisconsin Auctioneer: Wade T. Micoley #2647-052. WI Broker Firm: WM Enterprises, Inc. #835181-91. WI Broker: Wade T. Micoley #43427-90. For a full list of licensing please visit their website.