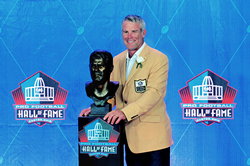 We are beyond excited for the opportunity to accept booking inquiries for this powerhouse hall of a famer.
OCONOMOWOC, Wis. (PRWEB) December 12, 2019
MSM is now accepting inquiries for Mr. Brett Favre, along with an all-star lineup of 40+ talented players. As a three-time Associated Press NFL Most Valuable Player, this 2007 Sports Illustrated Sportsman of the Year, and a member of both the Pro Football and Green Bay Packers Hall of Fame, Favre is a truly a time-honored, all-American sports legend. He will be an excellent highlight as a keynote speaker for national conventions, grand openings, corporate VIP events with Q&As, or Super Bowl media row. Favre has endorsed a variety of business luminaries such as Copper Fit, Wrangler, Sensodyne, and MasterCard. He's an active philanthropist through the impactful Brett Favre Fourward Foundation as well.
"We are beyond excited for the opportunity to accept booking inquiries for this powerhouse hall of a famer," exclaims MSM President Mark Mayfield. MSM remains a leader in the sports marketing industry, working with numerous national clients including Coca-Cola, FanDuel, Dicks Sporting Goods, Cousin Subs, USA Today and more. The agency's line-up includes NFL, NBA, and MLB players like Alvin Kamara, HOF Jerry Kramer, Giannis Antetokounmpo, Yasmani Grandal, and Melvin Gordon, just to name a few.
About Mayfield Sports Marketing
Mayfield Sports Marketing (MSM) has been a premier sports marketing agency of the Mid-West for over 15 years going strong. Owner Mark Mayfield focuses on delivering results that take client events or featured player experiences to the next level. The agency specializes in client needs such as highlighting a player autograph session and commemorating a special occasion with a hall of famer. The agency makes it their priority to have their clients' next speaking engagement, grand opening, or endorsement become one for the books.
Clients can now jump-start their next event by hosting one of Wisconsin's all-time favorite sports legends and quarterback for the Super Bowl XXXI Champion Green Bay Packers, Brett Favre. Due to Mr. Favre's high level of demand and limited availability, only serious inquiries will be received at 262-366-8188.
To read Brett's full announcement and check out other news and events, please visit: https://mayfieldsportsmarketing.com/blog/