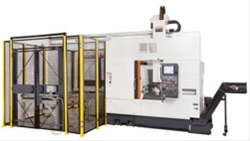 These new machines allow us to reduce both lead times and costs for our customers.
Cleveland, Ohio (PRWEB) September 12, 2016
Midwest Precision announced today the addition of two new machines designed to reduce lead times and costs for customers.
The new Mazak QT250MSY multi-axis mill/turn center includes a robotic loader. The machine is designed for runs over 500 pieces, and can handle parts that are:

1-1/4" through 7" diameter by 3.9 inch maximum length
Round parts with the lathe (turning) work and milling/drilling
Robotic gantry loader allows for unattended operation, making parts more cost-effective to produce
Multi-axis allows complex parts to be produced in one operation
Tight tolerances can be maintained
According to Program Manager Russ Mulh, "These new machines allow us to reduce both lead times and costs for our customers."
Midwest also added the Makino A51NX with 133 Tool Station. This machine provides:

4-axis precision horizontal mill with high pressure coolant
133 tool stations provides the ability to produce complex parts with unattended operation
Probing for accurate positioning
Interchangeable pallets for quick change overs
Ball lock system for reduced setup times
Maximum part size: 15" x 15" x 15"
Quantities: 100 pcs and up
About Midwest Precision
Established in 1953, Midwest Precision, formerly known as Midwest Screw Products, is an AS9100 / ISO 9001 certified manufacturer of precision machined components and assemblies for the Aerospace, Defense, Power Generation and Engineered Industrial markets. The company is well-known for its innovative manufacturing engineering, value-adding capabilities including program management and expertise in precision machining and assembly of close tolerance components made from Stainless Steel, Aluminum, Nickel Alloys, Titanium and other engineered materials.
Midwest Precision was formed by former executives of International Motion Control, a global leader in industrial and aerospace motion control components and systems. Midwest Precision applies operational expertise and investment discipline to successfully grow industrial manufacturing companies.