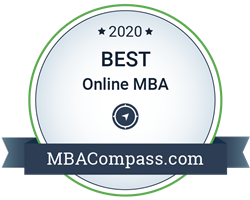 The company is the first to offer rankings of online MBA degrees based on accreditation and alumni career data from LinkedIn.
KIRKLAND, Wash. (PRWEB) November 13, 2019
MBACompass.com, an online resource focused on helping students navigate the MBA space, has just released its 2020 rankings of online MBA programs across the nation. The company is the first to offer rankings of online MBA degrees based on accreditation and alumni career data from LinkedIn. MBACompass.com researched 770 total MBA degrees and determined the rankings by analyzing the percent of alumni who went on to earn executive positions in their careers.
In order to ensure quality, legitimacy, and trustworthiness of the programs considered for the MBA rankings, each program must be accredited by the Association to Advance Collegiate Schools of Business (AACSB), the Accreditation Council for Business Schools and Programs (ACBSP), and/or the International Accreditation Council for Business Education (IACBE). The 2020 Best Online MBA Programs utilizes the alumni career data in order to showcase business schools whose alumni are promoted into top positions. The data was collected from alumni-reported information on the colleges' business school LinkedIn pages, if applicable.
MBACompass.com also published rankings for the best MBA programs based on executive alumni data in 13 different states where MBA programs are popular. In addition to the ranking, each page includes information on jobs, salaries, and job growth projections in the state.
"MBACompass understands the importance of career advancement for MBA students. This is why we decided that researching alumni career data was essential for helping prospective MBA students determine the best MBA programs for them. We are excited to be the first MBA rankings to highlight alumni outcomes, specifically looking at the number of executives each school has produced," said Mariya Bashkatova, lead Product Manager of MBACompass.com.
The 2020 rankings release also includes a list of the most affordable accredited online MBA degrees. This ranking recognizes MBA programs that are committed to providing economical options for students.
The rankings include a total of 210 colleges among the overall, executive, and by-state lists. University of Michigan - Ann Arbor topped the overall MBA ranking, with an executive alumni percentage of 37%. Georgia Southwestern State University ranked first on the most affordable MBA list, with the low annual tuition of $3,855.
About MBACompass.com
MBACompass.com is a free and comprehensive guide seeking to help driven students find the best online MBA programs to fit their budget, educational needs, and career aspirations. By providing resources that are easy to use but hard to find elsewhere, MBACompass hopes to help more students find the right online MBA program for them.