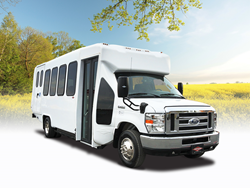 COLTON, Calif. (PRWEB) September 25, 2020
CalACT is the largest state transit association in the United States, with over 300 members dedicated to promoting professional excellence, stimulating ideas, and advocating for effective community transportation. "A-Z has been a proud member of CalACT for over 26 years and appreciates the support that they provide to their members," said Joe Pashman, A-Z Bus Commercial & Transit Director. "We are excited to partner with them on another great purchasing cooperative available to all transit agencies with the CalACT Cooperative."
A-Z Bus harnessed over 45 years of relationships and experience to bring together the partners contributing to the two vehicles on this contract. The Diamond Coach's composite body is the perfect match for an electric drivetrain. It not only has the quietest ride on the market, but it also provides superior insulation over traditional cutaway construction. "Making the switch to a zero-emissions bus offers quieter operations and better acceleration than a traditional bus. Not only does this ride help better the planet by reducing carbon emissions, but electric vehicles have significant long-term cost savings. By eliminating almost all engine maintenance, maintenance costs are reduced by over 65%, and fuel costs are reduced by another 75%," said John Resnik, CEO at Diamond Coach.
A-Z Bus and its partners have deployed over 40 all-electric Diamond Coach cutaways in California in the past six months. Converting fleets to all-electric powertrains gives you the best of both worlds: zero-emissions and significant cost savings through eliminating fuel costs and low-maintenance operation on platforms. "A-Z Bus is extremely proud to be leaders in California after selling and delivering over 200 all-electric zero-emission buses throughout the state," said John Landherr, CEO of A-Z Bus.
A-Z Bus has successfully delivered hundreds of NorCal Vans via CalACT's 15-01 contract, so partnering with NorCal Vans again was a no-brainer. As a Certified Ford eQVM, NorCal's attention to detail and a wide range of floorplans and options make them a favorite amongst many CalACT members. "Recognizing the increasing demand for zero-emission vehicles, NorCal Vans partnered with A-Z Bus Sales and Lightning Systems to develop our All Electric ADA Compliant Transit van. We have several commercial sales under our belts and are excited to hit the ground running with AZ Bus and the CalACT/MBTA 19-01 contract," said Greg Hollis, Sales at Nor Cal Vans.
Lightning Systems' high-tech all-electric powertrain systems are available in multiple battery capacities, ranging from 75-120 miles. Lightning Systems' powertrains are validated for reliability by hundreds of thousands of real-world miles, and years' worth of customer-validated data. They also provide comprehensive charging solutions and telematics systems to maximize fleet efficiency and up-time. "Together, with our partners A-Z Bus Sales and Diamond Coach, we're providing the highest-quality zero-emission Class 3 and 4 shuttle buses, with the highest passenger capacity available to California agencies," said Tim Reeser, CEO of Lightning. "Unlike other commercial EV providers, we've been building EV buses for years, and our new high-capacity production facilities can deliver new orders in weeks, not years."
These buses are manufactured by industry leaders in both transportation and EV drivetrain space to bring you the best of both worlds. The result is zero-emissions all-electric buses with all-electric powertrain technology that delivers reliability and efficiency from long time California leaders in alternative fuel transportation solutions, A-Z Bus.
Both awarded vehicles are eligible for HVIP funding through A-Z Bus Sales.
For more information about A-Z Bus Sales' EV offerings please visit https://www.a-zbus.com/ev-shuttle-buses. View VIDEO featuring the Diamond Coach E-450 powered by Lightning Systems.
About A-Z Bus Sales, Inc.
A-Z Bus Sales, Inc. is a transportation dealer-distributor serving the education, government, public sector, commercial, and private fleet markets with a broad portfolio of clean passenger transportation solutions. The 100% employee-owned company specializes in clean alternative fuel products. A-Z Bus provides sales, service, parts, and financing for both new and pre-owned buses. Founded in 1976, A-Z Bus Sales has built a reputation for long-lasting customer relationships, professionalism and integrity, and the share positions in markets served. Headquartered in Colton, California, the company has multiple sales and service locations serving California and Hawaii. To learn more, visit http://www.a-zbus.com or by call 800.437.5522.
About Lightning Systems
Lightning Systems provides complete electrification solutions for commercial fleets, including turnkey charging and energy systems–from Class 3 cargo and passenger vans to Class 6 work trucks, Class 7 city buses, and Class 8 motor coaches. The Lightning team works with forward-thinking fleets to engineer, develop, and deliver custom commercial electric vehicles with a full suite of telematics, analytics, and charging solutions to maximize fleet and energy efficiency.
About Diamond Coach
Since 1989, Diamond Coach has manufactured rust-free, impact-resistant buses that provide superior resale value. Offering a smooth, quiet ride, Diamond buses seat 15 to 35 riders. These bus solutions are ideal for hotels, transit and parking authorities, healthcare, tour operators, sports clubs, and churches. Diamond markets its product through a nationwide team of independent dealers is headquartered in Oswego, Kansas, and is part of B12 Transportation Group of Kansas City, Missouri.
About Nor Cal Vans
With over 30 years of experience, Nor Cal Vans is the leader in providing solutions for your transportation needs and procurement of automotive and ADA accessories. Nor Cal Vans is an authorized Ford QVM (Qualified Vehicle Modifier), EQVM (Electric Vehicle Modifier) and Ford Pool Account. Our products are designed to meet the rigorous quality and safety standards we strive for in each of our products. All our innovative designs are compliance-tested to meet FMVSS standards and CARB emission standards.