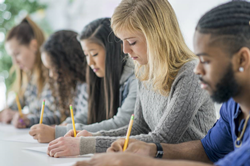 For affordable, effective help in preparing for the MCAT, our favorite course is Magoosh
OVERLAND PARK, Kan. (PRWEB) December 30, 2020
TopConsumerReviews.com recently awarded their highest five-star rating to Magoosh, a trusted service offering MCAT Test Prep courses.
In order to get into medical schools in the US, Canada, Australia or Caribbean Islands, students have to get a competitive score on the Medical College Admission Test, or MCAT. The test is grueling, coming in at just under eight hours long, and it costs $320 each time a student takes it. Plus, aspiring doctors can only take the test four times total; a low score means they run the risk of missing important admissions deadlines or not qualifying at all. For that reason, it is important to study wisely — and MCAT test prep courses offer a comprehensive array of strategies, lessons, practice questions and tests to help test-takers get their best possible score on the first try.
"For affordable, effective help in preparing for the MCAT, our favorite course is Magoosh," confirmed Brian Dolezal of TopConsumerReviews.com, LLC. "This study platform is 100% online and includes numerous content videos, recommended study schedules and practice questions. Students choose whether they prefer access for one month or a year, both of which are priced under $200, and they can take advantage of Magoosh's 7-day free trial to put the MCAT test prep service to the test before committing to a membership. Most users say that Magoosh easily helped them improve their MCAT scores by at least 10 points, with easy-to-understand explanations on difficult topics and a comprehensive study plan. Why spend thousands of dollars on an MCAT test prep service when this one gets the job done for much less money? For all of these reasons, Magoosh is our newest first-place winner among MCAT test prep courses in 2020."
To find out more about Magoosh and other online MCAT Test Prep courses, including reviews and comparison rankings, please visit the MCAT Test Prep category of TopConsumerReviews.com at https://www.topconsumerreviews.com/best-mcat-test-prep-courses/.
About Magoosh
Founded in May 2009, Magoosh is an online test prep company that offers affordable study programs and apps for the GRE, GMAT, ACT, SAT, LSAT, MCAT, TOEFL, IELTS, and Praxis. The company believes all students should have access to effective ways to boost their test scores, so their prep is a fraction of the cost of traditional classes and tutors. Magoosh students have answered more than 330 million questions, watched over 8 million hours of video, and have virtually flipped Magoosh study flashcards more than 1 billion times.
About TopConsumerReviews.com
TopConsumerReviews.com, LLC is a leading provider of reviews and rankings for thousands of consumer products and services. From MCAT Test Prep to Homework Help and Job Search sites, TopConsumerReviews.com delivers in-depth product evaluations in order to make purchasing decisions easier.