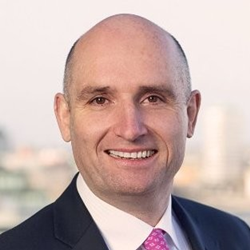 "We chose Introhive's platform because it will not only give us valuable insights into client relationships, it will do so securely and instantly, across the entire firm."
DUBLIN, Ireland (PRWEB) August 05, 2019
One of Ireland's premier law firms, McCann FitzGerald, has added Introhive's enterprise relationship management platform to their suite of AI-driven legal technology.
"Whether we're developing our own information systems or investing in innovative solutions like Introhive's relationship management system, every decision we make comes back to one issue – will it help us improve our understanding of our clients and the experience they receive from our firm?" said Barry Devereux, McCann FitzGerald's Managing Partner.
"We want to provide our clients with the best possible experience, and that requires a deep understanding, across the firm, of every touch point we have with them," Devereux added. "We chose Introhive's platform because it will not only give us valuable insights into those client relationships, it will do so securely and instantly, across the entire firm."
Introhive, the market-leading relationship intelligence platform for professional services firms has more than 150,000 users in over 90 countries, including Global 100 and AmLaw 200 legal firm clients across the United States, Canada, APAC and the United Kingdom.
Introhive's Business Development Director for the U.K. and Ireland, Alan Mercer, said "Introhive has successfully helped the cross-functional teams—business development, marketing and client success—of firms like McCann FitzGerald, all over the world, to map and identify who knows who at their clients and prospects companies."
According to Mercer, these relationship insights enable Introhive's users to make more informed decisions when it comes to engaging with clients and leveraging under utilised relationships to cross-sell relevant service lines.
"Introhive allows professionals to instantly sync contacts and client activity to their CRM right from their email, without interrupting their workflow," Mercer said. "So, we expect McCann FitzGerald, like many of the firms we work with, will see an increase in CRM adoption and productivity. That will free up more time to not only service clients, but also provide greater insight into how well the firm is supporting client needs.
"We're proud to partner with innovative, forward-thinking law firms like McCann FitzGerald," Mercer added. "They have a clear track record of seeking out new and creative ways to better serve their clients. We're confident our platform will not only help the firm enhance their client relationship management, but also take their business development and client experience efforts to the next level."
About Introhive
Introhive is the leading relationship intelligence and CRM automation platform for professional services firms. The Introhive platform leverages artificial intelligence (AI), machine learning and data automation to improve employee productivity and data accuracy in CRM to accelerate business development, marketing impact and revenue growth. Learn more at http://www.introhive.ai
About McCann FitzGerald
With 650 people, including more than 450 lawyers and professional staff, McCann FitzGerald is one of Ireland's premier law firms. Consistently recognised as the market leader in many practice areas, McCann FitzGerald offers a full range of services to corporate, financial service and industrial companies. Its principal office is located in Dublin and has overseas offices in London, New York and Brussels. Learn more at http://www.mccannfitzgerald.com.