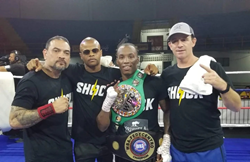 NEW YORK (PRWEB) June 09, 2021
On June 7, 2021, boxer O'Shaquie Foster filed in the U.S. District Court for the Southern District of New York a responsive pleading in the case (DIBELLA ENTERTAINMENT, INC v. O'SHAQUIE FOSTER; case no. 21-cv-2709) brought against him by DiBella Entertainment, Inc. ("DBE"), which had sued Foster this past March.
Foster, ranked as the #2 Super Featherweight boxer by the World Boxing Council ("WBC"), was sued in March by boxing broker Lou DiBella's corporation, DBE. That lawsuit accused Foster and his manager, Keith Mills, of attempting to get out of their contract with DBE after DBE had invoked a force majeure clause after boxing purportedly was shut down due to the COVID-19 pandemic.
Among other claims, the responsive pleading made by Foster alleges that:

DBE is no longer a fight promoter but rather a fight broker, as he no longer has the requisite connections and other characteristics required of a promoter.
DBE violated the terms of the Promotional Agreement that was signed by Foster on April 14, 2019.
About O'Shaquie Foster:
O'Shaquie "Shock" Foster is a 27-year-old professional boxer originally from Orange, Texas who holds an 18-2 record with eleven (11) knockouts and no losses in the last five (5) years. He is currently ranked as the #2 super featherweight fighter by the World Boxing Council (WBC). Before fighting as a professional, Foster was a 2012 U.S. Olympic Team alternate. He resides in Houston, Texas.
About McCathern Houston:
McCathern Houston is the Houston office of the law firm McCathern, Shokouhi, Evans, Grinke ("McCathern"). McCathern Houston is led by Co-Managing Partners Rodney Drinnon and Ronald Wright. In addition to its Houston office, McCathern has offices in Dallas, Frisco and Los Angeles as well as 'Of Counsel' attorneys covering all fifty states. Full-service in scope, the firm has a broad range of practice group specializations led by experienced attorneys. Formed in 1998, McCathern has established a reputation of excellence in providing legal services. Its leaders bring large-firm experience and business acumen to a small-firm environment of agility and efficiency. The firm's track record has attracted an impressive and loyal clientele list, ranging from small companies and high-net-worth individuals to Fortune 500 corporations and high-profile organizations. Their philosophy of Improving People's Lives is applied every day by regarding clients as valued business partners, working together to resolve disputes, and closing transactions diligently and resourcefully. With Board Certified® Trial attorneys, McCathern clients are represented by some of the best in the country.