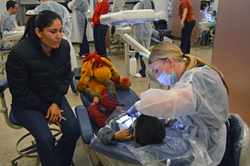 A big goal for us is to offer services to the community, while also providing a learning experience for our students. -- Nikki Shipp, Rio Salado College Dental Hygiene Clinical Coordinator
Tempe, AZ (PRWEB) June 01, 2015
Rio Salado College's Dental Clinic is hosting two complimentary dental clinics for children and young adults this summer.
The clinics take place Friday, June 12, and Wednesday, July 8, from 8 a.m. to 3 p.m. at the Rio Salado Dental Clinic. The clinic is located at 2250 W. 14th Street, in Tempe.
"A big goal for us is to offer services to the community, while also providing a learning experience for our students," said Nikki Shipp, Clinical Coordinator for Rio's dental hygiene.
Complimentary clinic services include: exams, X-rays, cleaning, and a Fluoride varnish. Each child will also receive a gift bag to take home, as well as educational tips on maintaining good oral health.
Tooth decay is the most common chronic disease in children, but is almost entirely preventable.
"Prevention starts with knowledge," Shipp said. "We want to help educate parents and kids about the importance of good oral hygiene and cavity prevention."
Clinic services are free for children 17 and younger. Parents are asked to RSVP to (480) 377-4100 or dental.hygiene(at)riosalado.edu to guarantee a spot, as space is limited.
Walk-ins will be accommodated if time and space permit.
Rio Salado dental hygiene students, instructors and staff are volunteering their time and expertise to staff the clinics.
The Rio Salado Dental Clinic provides quality preventive dental hygiene services at discounted rates for the public all year long. Fees range from $25-35 depending on the age of the patient.
For more information about [Rio Salado College's dental clinic, call (480) 377-4100.
Rio Salado College is one of ten Maricopa Community Colleges regionally accredited by the Higher Learning Commission, and one of the largest online public community colleges in the nation, serving nearly 59,000 students annually with more than 30,000 online. Founded in 1978, Rio Salado offers 600+ online classes, 100+ degree and certificate programs and general education courses. The college also provides support for dual enrollment, military and incarcerated students and serves as one of the largest providers of adult basic education in Arizona.