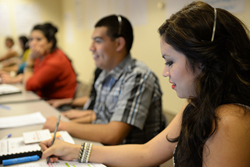 Our state has had an ongoing shortage of science, math, special education and kindergarten teachers—especially in rural communities. --Kim Tobey, Director of Community Partnerships and Programs
Tempe, AZ (PRWEB) March 30, 2015
Individuals who have considered a teaching career but hesitated because they are not in a position to give up a paycheck to go back to school can benefit from the Rio Salado College Teacher-In-Residence (TIR) intern program.
The program provides a convenient and cost-effective way for students and working professionals with a bachelor's degree to transition into a K-12 teaching career. Through paid employment opportunities in the classroom, students can earn an income while completing the certification coursework. The program can be completed in two years.
TIR candidates are paired with a partnering Arizona school district, to work full-time and receive the same salary and benefits of fully-certified classroom teachers. The average beginning salary for teachers is nearly $32,000.
The opportunities for post-program employment are also in favor of Rio Salado TIR program completers. Arizona school districts actively seek Rio Salado TIR candidates specifically because the program requires two years of classroom training, provides intensive mentoring and meets their instruction quality standards.
Rio Salado's TIR programs are approved by the Arizona Department of Education (ADE).
"The need for teachers in Arizona is greater than ever," said Director of Community Partnerships and Programs Kim Tobey. "Our state has had an ongoing shortage of science, math, special education and kindergarten teachers—especially in rural communities."
The need has been so great that 938 teaching positions were filled by substitute teachers during the 2013-14 school year, according to the Arizona Department of Education.
"Although substitute teachers meet an immediate need, TIR candidates benefit from full-time employment, while receiving consistent and strong instruction that may not always be afforded to substitute teachers," said Tobey.
There's a greater shortage looming. Approximately 23%, or 26,000 educators, will be eligible for retirement by June 2018.
A 2015 report by the ADE's Educator Retention and Recruitment Task Force cites that, "Arizona will not be able to ensure economic prosperity for its citizens and create the workforce of tomorrow," if it cannot fill these vacancies.
"We also have a 6.6 percent unemployment rate, about one percent above the national average," said Tobey. "With this program, we can help shrink that gap by putting people to work right away."
Individuals who have a passion for teaching and want to learn more about Rio Salado's TIR program, are welcome to take part in a free orientation session April 1, 2015.
RSVP for the Teacher-In-Residence Orientation
April 1, 6-7 p.m.
Rio Salado College Conference Center
2323 West 14th Street
Tempe, AZ 85281
For additional details, call (480) 517-8140 and ask to speak to a program outreach specialist.
Rio Salado College is one of the 10 regionally accredited Maricopa Community Colleges and one of the largest online public community college in the nation, serving nearly 59,000 students annually with more than 30,000 online. Founded in 1978, Rio Salado offers 600+ online classes, 100+ degree and certificate programs and general education courses. The college also provides support for dual enrollment, military and incarcerated students and serves as one of the largest providers of adult basic education in Arizona.