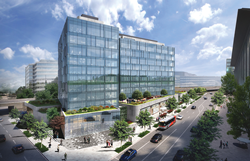 Gilbane and STUDIOS recently completed the McCormick & Company Headquarters and, cumulatively, have delivered over 45 million square feet of award-winning headquarters projects.
Washington, DC (PRWEB) July 18, 2019
The design-build team of Gilbane and STUDIOS Architecture was recently selected by Lynch Development Advisors, WMATA's development manager, to design and construct WMATA's new 230,000-square-foot headquarters near the L'Enfant Plaza Metro Station. Gilbane and STUDIOS recently completed the McCormick & Company Headquarters and, cumulatively, have delivered over 45 million square feet of award-winning headquarters projects. They will partner with minority-owned firms Bowa Construction, McKissack and McKissack, and Nia Architects to deliver WMATA's headquarters in 2021.
The selection of the design-build team comes after WMATA put their current headquarters building on the market. The redevelopment of 300 7th Street Southwest will be the first step in consolidating the transit authority's 10 buildings across D.C., Maryland and Virginia. The team's high-energy performance design was selected because of its thoughtful approach to achieving WMATA's workplace goals. The design connects the building to the surrounding neighborhood through architectural elements and to the public through ground floor activation opportunities. The design focuses on WMATA's goals to enhance the workplace experience and provide variety and choice for its employees.
The project will focus on maximizing local participation of, small, minority-owned, women-owned, veteran-owned, and Disadvantaged Business Enterprises. Companies certified by one or more government agencies in Washington, D.C., Maryland, and/ or Virginia are all included in the project's economic inclusion plan. As part of the plan, the project team will conduct outreach events to gather interest from these firms. The first event is planned for July 23 at the site of the new headquarters. At both events, contractors will have the opportunity to speak one-on-one with procurement and construction professionals.
"We look forward to embracing WMATA's transit mission and connecting their employees to the community through this new high-energy performance building," said Michael Ricketts, project executive at Gilbane Building Company. "Just as important, this building will mirror WMATA's geographic reach by connecting firms across Washington, D.C., Maryland and Virginia with contracting opportunities."
Gilbane and STUDIOS Architecture bring expert knowledge in the design and construction of commercial facilities. In 2018, Gilbane Building Company ranked as the nation's #6 Commercial Office Builder by Building Design + Construction, a respected industry publication. Gilbane and STUDIOS each bring local commercial expertise with award-winning portfolios of commercial projects in Washington, DC, Virginia and Maryland. Notable projects include the recently completed McCormick & Co. Headquarters, Navy Federal Credit Union Headquarters, and Association of American Medical Colleges (AAMC).
"We're thrilled to collaborate with Gilbane on another great headquarters project, and we're building on the collaborative spirit our teams developed at McCormick," said Ashton Allan, principal at STUDIOS Architecture. "As part of the design-build team, we're including our client partners from WMATA, Jair Lynch, and numerous others, into our creative process. This "Big Room" idea allows us to make thoughtful and efficient design decisions to help deliver a new home for our local transportation authority."
About Gilbane Building Company
Gilbane provides a full slate of construction- and facilities-related services – from pre-construction planning and integrated consulting capabilities to comprehensive construction management, general contracting, design-build and facility management services – for clients across various markets. Founded in 1873 and still a privately held, family-owned company, Gilbane has 46 office locations worldwide.
A builder in Washington, DC for nearly 50 years, Gilbane has grown to become one of the largest providers of construction management services in the DC metro area. In 2017 Gilbane was named one of the top five builders by the Washington Business Journal. A local leader in design-build construction, Gilbane has delivered over $740 million of design-build projects in the last five years. Notable projects include the Cleveland Park Library, the Entertainment and Sports Arena (ESA), Dunbar Senior High School and St. Elizabeth's East Campus Infrastructure Improvements. For more information, visit http://www.gilbaneco.com.