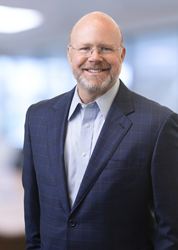 NEW ORLEANS (PRWEB) January 06, 2021
McGlinchey Stafford is proud to announce that Michael D. Ferachi became the firm's new Managing Member (partner), effective Jan. 1, 2021.
Previously serving as Senior Operations Manager for the firm, Michael has worked closely with predecessor Rodolfo "Rudy" J. Aguilar, Jr. to lead McGlinchey over the past two years as part of the firm's succession planning strategy. Despite the challenges that the legal industry faced in 2020, McGlinchey had a successful year under their leadership, and was able to onboard a number of key lateral hires.
As Managing Member, Michael will lead the firm into a new era with an initiative called #McGlincheyForward. This initiative will focus on positive change through continuing the firm's growth strategy, strengthening the firm's inclusive culture, empowering the firm's employees, and surpassing clients' expectations with exceptional service.
"Michael is the right leader for McGlinchey as we begin to navigate 2021," said Rudy. "His leadership will help guide us through whatever challenges may lie ahead so that we can continue to capitalize on opportunities for growth."
McGlinchey has more than 150 attorneys across 15 offices in Alabama, California, Florida, Louisiana, Massachusetts, Mississippi, New York, Ohio, Tennessee, Texas, and Washington, DC. The firm's expansion strategy aligns with the nation's biggest energy corridors, substantial ports, and banking centers, and is always driven by client service and need.
"I am honored and grateful to serve the firm and our clients in this new role," said Michael. "Between hurricanes here in Louisiana and powering through the pandemic in all of our offices, our team has proven that we can overcome any challenge as we continue to grow strategically and deliver excellent legal services to the clients who depend on us."
In addition to his leadership role at the firm, Michael is an experienced trial attorney who advises clients on consumer finance litigation, class actions, business disputes, and insurance defense matters. He has handled cases involving a full range of federal statutes and regulations pertaining to consumer finance, and his work includes litigating disputes involving consumer finance institutions of all sizes as well as airlines, outdoor advertising, commercial finance entities, construction companies, and other entities. He has tried numerous cases to verdict and handled dozens of appellate matters.
Rudy will return to his practice full-time, handling corporate transactions (including commercial financing, real estate development, and general business matters), supporting industrial projects from development through operation, providing insurance regulatory counsel to clients nationwide, and advising automobile manufacturers and heavy equipment manufacturers regarding ancillary insurance products.
about McGlinchey
McGlinchey Stafford is a premier midsized business law firm offering services in more than 40 practice areas through a highly integrated national platform. We leverage bold innovation, diverse talent, and leading-edge technology across our powerful network to serve clients at the local, regional, and national level. McGlinchey operates from 15 offices with over 150 attorneys serving clients from offices in Alabama, California, Florida, Louisiana, Massachusetts, Mississippi, New York, Ohio, Tennessee, Texas, and Washington, DC. The firm currently has 63 attorneys recognized by Best Lawyers, 18 attorneys and eight practice areas recognized by Chambers U.S.A., 50 practice areas recognized by Best Law Firms, and was named a "Top Performer" by the Leadership Council for Legal Diversity (LCLD) for the past 3 years. To learn more, visit http://www.mcglinchey.com.